Check for a software update on your Galaxy phone
Last Update date :
Dec 15. 2021
Software updates are like oil changes and tune-ups for your phone - they keep things running smoothly. They also help improve the user interface, enhance security, and remove minor bugs. We recommend updating the software whenever a new version is available so you can make sure your device stays in tip-top shape.
Note: Information provided applies to devices sold in Canada. Available screens and settings may vary for smartphones sold in other countries.
Perform a software update
If a system update is available, you should install it to keep your phone running smoothly. However, please be aware that during the update process, your device cannot be used and files will be inaccessible. You also will not be able to make calls, even to emergency services. Additionally, there may be some differences to the device's interface when the update completes.
Note: Depending on your software version, it may be necessary to repeat this process multiple times.
1
Using two fingers, swipe down from the top of the screen, and then tap the Settings icon.
2
Swipe to and then tap Software update or System updates. It will vary between models.
3
Tap Download and install or Check for system updates. It will vary between models.
Note: You can also tap the switch to enable or disable Auto download over Wi-Fi. When this option is turned on, your phone automatically update when it is connected to a Wi-Fi network. If this option is turned off, you will need to update your device manually.
4
If an update is available, you can choose Install now, Schedule install or Later. It will vary between models.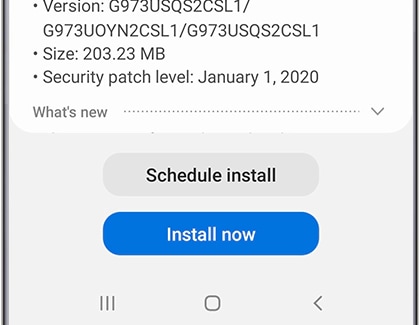 Note: At the opposite, if your software is already up to date, a message will be displayed to confirm it.
5
The procedure itself is automatic and your phone will restart to complete the process.
Software update via Smart Switch
Not only is Smart Switch great for transferring data, it is also an easy way to update your device's software. When you open Smart Switch on your Mac or Windows PC, you will see an option to update to a new software version if one is available.
1
Using the USB cable that came included in the box, connect your Galaxy phone to a computer that has Smart Switch installed. You may need a USB adapter with some PCs.
Note: Make sure your phone is charged to at least 20% before proceeding.
2
Open Smart Switch on the computer and allow it to detect the device.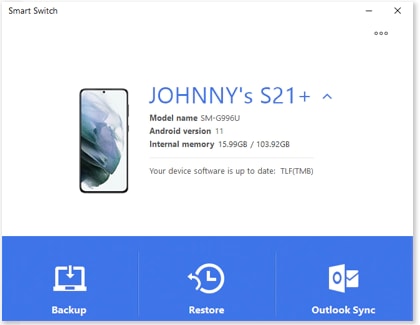 3
If an update is available, the Update button will appear under the device's name.
4
Click Update on your computer and follow the on-screen prompts to download and install the update.
Note: Do not disconnect the USB cable or use your phone until the update is complete. Keep in mind your phone might turn on and off during the update process.
Check software version
If you would like to see the software version currently on your device, open Settings, tap About phone, and then tap Software information.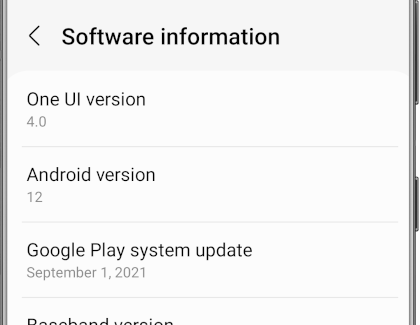 Software update issue
If you are experimenting any issue during a software update, please contact us as this is a critical issue. There is no one solution fits all but our agents are ready to assist you!
Please answer all questions.
The coding for Contact US > Call > View more function. And this text is only displayed on the editor page, please do not delet this component from Support Home. Thank you