Use Bixby Vision on your Galaxy phone
Last Update date :
Apr 22. 2021
Sometimes, there is more than meets the eye. If you need some help understanding a picture or image, Bixby Vision is here for you. Now your Galaxy phone can easily translate text, find similar images, or give you more information about a picture. It can even help you do some online shopping. Become a visual learner with Bixby Vision.
Note: Information provided applies to devices sold in Canada. Available screens and settings may vary for smartphones sold in other countries.
Access Bixby Vision
Note: When you launch Bixby Vision for the first time, you will be asked to review and accept Terms of Service, Samsung Privacy Policy, and allow permissions.
To help you discover more, Bixby Vision is built into your Camera, Gallery, and Samsung Internet.
Camera: Bixby suggests information based on what is live in the viewfinder. From the Camera app, tap MORE and then tap BIXBY VISION to use it.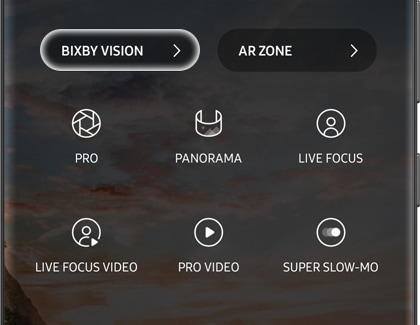 Gallery: If you have already taken or downloaded a photo, Bixby can analyze what is inside it. From the Gallery app, tap your desired image, and then tap the Bixby Vision icon (it looks like an eye).
Samsung Internet: Learn more about pictures by having Bixby analyze what you are looking at. From the Samsung Internet app, tap and hold the image you want to view with Bixby Vision, and then tap Search with Bixby Vision.
Use a lens in Bixby Vision
With Bixby, you can look at the world in a new way. The possibilities are endless.
Just open the Camera app, tap MORE, and then tap BIXBY VISION in the top left corner. If it is your first time using Bixby Vision, agree to the Terms of Service, and Privacy Policy. Next, agree to the different permissions, and if desired, tap Add to add a shortcut to your phone's Home screen for easier access.
You can now use Bixby Vision inside your phone's Camera app. The search results will show up right away when Bixby scans an image. Simply scroll through lenses (at the bottom of the screen) and tap the one you want to use.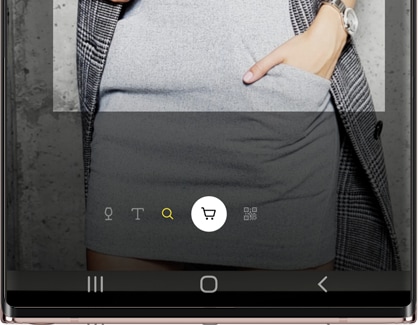 Here are the features available in Bixby Vision:
Wine: See the bottle's rating or learn more about the vineyard it came from.
Translate: Automatically translate text from another language in the live preview on your screen.
Discover: Point the camera at something and see similar things on Pinterest.
Shopping: Find the items you are seeing online so you can buy them or see similar options.
QR Code: Scan a QR code to quickly open up the corresponding link. Or, scan a barcode to be directed to the shopping website.
Additional lenses are available to assist users with low vision. While using Bixby Vision, tap the More options icon (the three dots) and then tap Settings. Tap Bixby Vision for accessibility and then tap the switch to turn it on. By default all the lenses will be enabled, but you can select which lenses will be available with the switches.
Scene describer: Point the camera at a scene, then tap Capture button. Bixby will speak a description the scene that it sees.
Object Identifier: Point the camera at an object and Bixby will tell you what it sees.
Text Reader: Point the camera at some text to have it read aloud.
Color Detector: Point the camera at an object, and Bixby will tell you what color it is.
If you want to change which lenses appear in Bixby Vision, tap the More options icon (the three dots) from within Bixby Vision, and then tap Settings. If you are using the latest version, tap Lens, and then tap the switch next to your desired lenses.
Note: Available lenses may vary depending on your Bixby Vision software version.
Samsung AR Zone with Bixby Vision
Bixby vision opens up a world of Augmented Reality capabilities on your Galaxy phone. Did you ever wonder how you would look with a rainbow colored beard? Would you like to have a cartoon version of yourself to send as a sticker in a message?
Just open the Camera app and tap MORE. Tap AR ZONE to access all the fun and useful features of AR.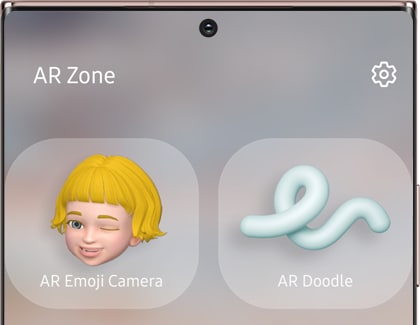 AR Emoji Camera: Create your own AR emoji, or use one of a number of fun characters and see it react to your motions and expressions. Capture a photo or video to share with friends.
AR Doodle: Record fun videos with virtual handwriting or drawings on faces or anywhere else.
AR Emoji Studio: Create a custom look for your AR Emoji.
AR Emoji Stickers: Create animated sticker you can use in messages, featuring your own AR Emoji.
Deco Pic: Fun filters and stickers to add that extra punch to your photos and videos.
Picture link: Lets you set an object as an AR marker that can play sounds, show pictures and more when you point the camera at it.
Quick Measure: Lets you measure objects and distances without having to find a tape measure.
3D Scanner: The 3D Scanner, only available on the Galaxy Note10 and Galaxy S20 5G series, lets you scan an object, and then use the scanned object as a character in your videos.
Note: Additional third-party apps may be available. Available apps may vary based on software version.
Please click the submit button below to share your feedback with us. Thank you for your participation.
Please answer all questions.
The coding for Contact US > Call > View more function. And this text is only displayed on the editor page, please do not delet this component from Support Home. Thank you