Use the Samsung Messages app on your Galaxy phone
Last Update date :
Oct 03. 2020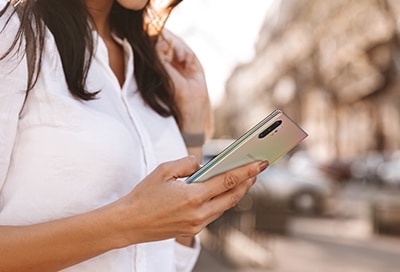 Keep in touch with all of your contacts using the Messages app on your phone. It's never been easier to share photos, send emojis, or just say a quick hello. There's so much you can do with your messages, like mute conversations or assign special message tones for certain contacts.
Information provided applies to devices sold in Canada. Available screens and settings may vary for smartphones sold in other countries. The following instructions and features are for the Samsung default messages app, which is available on Samsung phones running software version Android 9.0 Pie and up. These instructions do not refer to carrier or third-party apps.
Set custom tones for message threads
You can set custom ringtone tones for different contacts, so you'll know right away if it's your mom or your best friend messaging you.

Open Messages on your phone, and then tap the desired conversation. Tap the More options icon (the three vertical dots), and then tap Notification sound. Next, choose your desired notification sound for that conversation.

The notification settings on your phone may vary based on your carrier and whether your service is active.
Message customization
When it comes to giving your phone style, Samsung has you covered. To customize the way your Messages app appears, try changing the theme on your phone. If you want to change your font for Messages, adjust your phone's font settings.

You can't set background colors for Messages on phones with Android 9.0 Pie.

Change the font size
You want to catch every word in your messages, but the font's a little small. Adjust the font size for individual messages without affecting the general font size setting for your phone.

Open a message that you'd like to view from the Messages app, and then use two fingers to pinch in and out on the screen. The font will automatically become larger or smaller. Any changes you make will only affect texts displayed in the Messages app, and the last size you selected will be saved until you change it again.

Create and schedule a message
Messages has everything you need to craft that perfect greeting, including options to schedule a message in advance. Open Messages on your phone, and then tap Compose in the lower right-hand corner. Select the desired recipient(s), and then tap Enter message. Write your text, and then tap Send.

Or, to schedule a message, write the text and then tap the Add icon (the plus sign or arrow). Tap Schedule message. Set the date and time you want your text message delivered. It can be up to a year from the current date.

If you exit a message before you send it, the message will be automatically saved as a draft.
Messages app settings to know
Here are some useful tools and settings for the Messages app that you might not have known about. Use them to get the most out of your texts and messages.

Search: Use the Search icon to find a message thread you are looking for.

Delete: Tap and hold a message you want to delete, and then tap Delete located on the bottom right. Tap Delete again to confirm.
Star Messages: Tap and hold a chat bubble that you want to star or favorite, and then tap Star message. To view the starred messages, go the Conversations tab, tap the More options icon (the three vertical dots), and then tap Starred messages.
Block messages: You can block and delete unwanted messages. When you get a sketchy text, select Block number when the popup is displayed, and then tap Delete. To view blocked numbers and messages, or to block a number, go to the Conversations tab, tap the More options icon (the three vertical dots), and then tap Settings. Tap Block numbers and messages.
Update the app: From the Conversations tab, tap the More options icon (the three vertical dots), tap Settings, and then tap About Messages. If an update is available, tap Update.
Mute or unmute a conversation
By default, you are alerted when you receive a message from a contact. But you can mute any conversation, especially if you're in a meeting and don't want to be disturbed.

From the Messages app, select a conversation, and tap the More options icon (the three vertical dots). Depending on your carrier, the mute option layout may differ; you might have to tap Mute Conversation or the Bell icon. To unmute, tap Unmute Conversation or the Bell icon again.

Change the profile picture
Give your texts a personal touch by setting a profile picture in the Messages app. From the home screen, navigate to and open Contacts. Your profile will appear above your Contact list. Tap your profile icon, tap Gallery, and then select an album. Select the photo you want to use as a profile picture.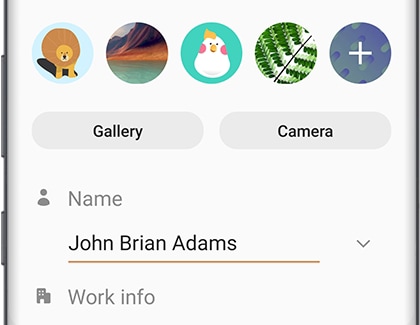 To crop the picture, tap and drag the box, and then tap Done. You can also add or edit information. To save any changes, tap Save. Contacts on your phone will see your profile picture if they're using a Samsung phone (the profile sharing feature must be activated on the phone).
You can also use preloaded icons or take a photo to use as a profile picture.
Please click the submit button below to share your feedback with us. Thank you for your participation.
Please answer all questions.
The coding for Contact US > Call > View more function. And this text is only displayed on the editor page, please do not delet this component from Support Home. Thank you