Keep your Galaxy tablet optimized with Device care
Last Update date :
Dec 23. 2020
Just like people, your tablet can get tired if it's constantly working. That's where Device care comes in. This feature can clean up your tablet's memory and storage to keep it fresh. It also provides an overview of your tablet's battery, storage, RAM, and security status.
Information provided applies to devices sold in Canada. Available screens and settings may vary for tablets sold in other countries.
Quick optimization
The more you're on your tablet, the more memory and storage will be used. Over time, unwanted files can build up. Optimize your tablet so it always runs at its best.
To improve your tablet's performance, navigate to Settings. Tap Device care, and then tap Optimize now. When the optimization is complete, review what's been optimized, and then tap Done.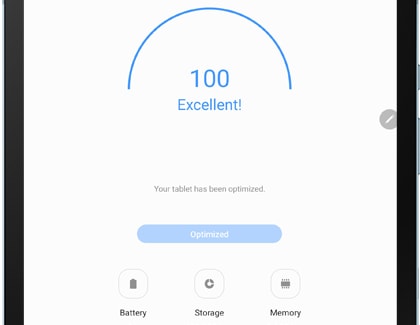 Here's what optimization does to help your tablet's performance:
Identifies apps that use excessive battery power and clears unneeded items from the memory.
Deletes unnecessary files and closes apps running in the background.
Optimize battery
Your tablet's battery life depends on the apps you use and the features you have set. For example, if you have your brightness set to max, the battery will drain faster.
With the Battery settings, you can view battery usage data, extend your battery life, and select apps to go to sleep.
From Settings, tap Device care, and then tap Battery. Use the available features, such as the different Power saving modes, to improve your tablet's battery usage.
Optimize storage
Free up storage space by using the Storage feature to see what files you have and deleting the ones you don't need.
From Settings, tap Device care, and then tap Storage. A list of different file categories will appear, such as Documents, Images, and so on. Tap your desired category to see your stored files and how much space each one is taking up. Select the files you want to erase, and then tap Delete. Tap Delete again to confirm.
Optimize memory
Sometimes, apps will continue running the background, even if you close them. You may have 10 apps still running and not even realize it. You can free up memory by stopping those apps.
From Settings, tap Device care, and then tap Memory. Tap Clean now to improve your tablet's performance.
Please click the submit button below to share your feedback with us. Thank you for your participation.
Please answer all questions.