Different storage options for your Galaxy Z Fold2 5G
Last Update date :
Oct 03. 2020
Pictures, videos, songs, documents, you name it - your Galaxy Z Fold2 5G can store all of them. But how do you access everything? The answer is simpler than you may think. Your phone keeps all your files stored in one place.
Information provided applies to devices sold in Canada. Available screens and settings may vary for Galaxy Z Fold2 5G sold in other countries.
Find all your files
If you see a funny meme or GIF, you will probably download it onto your phone. Or maybe you love listening to music during your commute.

The majority of files on your Galaxy foldable phone - whether they are downloaded or not - are accessible in the My Files app. Navigate to and open the Samsung Folder, and then tap My Files. From here, you can choose a file category based on the file you want.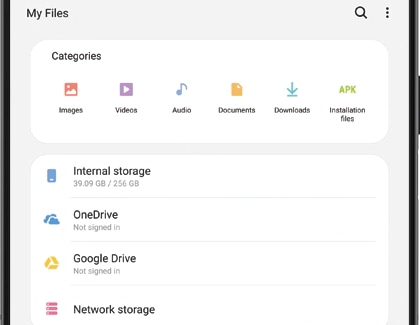 The categories are Images, Videos, Audio, Documents, Downloads, and Installation files. Once you pick one, you can browse through the files in that category and move them to another folder. Now that you've found that file you're looking for, tap and hold it to move it to a different folder or tap on it to view it.
My Files also lets you see how much internal storage you've used, and lets you connect to cloud services like OneDrive.
Excluding some download types (zipped folders, etc.) and installation files, you can view photos, videos, and more outside of the My Files app. Here is a list of some different apps you can use to open these files:
Pictures: Gallery and Google Photos.
Videos: Gallery, Google Photos, and Samsung Video Library.
Audio or Music: Samsung Music or Play Music.
Documents: Adobe Reader, Google Books, and Nook.
What to do when you run out of storage
Although the Galaxy foldable phones have a lot of internal storage space, you can still run out of room if you have too many files. The Galaxy Z Fold2 5G do not support microSD cards, but you can use several external storage options.
Please answer all questions.