Meet the unprecedented 8K video with Galaxy S20 | S20+ | S20 Ultra
Last Update date :
Oct 07. 2020
The camera is no longer just an add-on to your smartphone. The Galaxy S20 series have upgraded existing camera sensors to enable shooting of 8K video. You can also capture parts of a video containing high quality image resolution of 33 million. With the addition of AI (artificial intelligence) technology, the video can be used as an action cam.
Movie-grade video quality bringing you closer to reality
With 16 times higher resolution than full HD (FHD) and 4 times higher than UHD (4K), 8K video captures the details of what you see. The revolutionary advances in resolution enables mobile video shooting maintaining very sharp resolution even at the size of a cinema screen.
8K video recording features
UHD 8K(7680 x 4320) @24fps are supported

Recording time : Up to 5 minutes (File size: 600MB / 1 minute video)

Detailed image quality with over 33 million pixels
OIS Super steady mode
Video format : HEVC only
How to activate 8K video
Step 1.  Open the Camera app and tap Settings (Top menu)
Step 2.  Tap Rear video size in the video menu. Choose 16:9 (8K)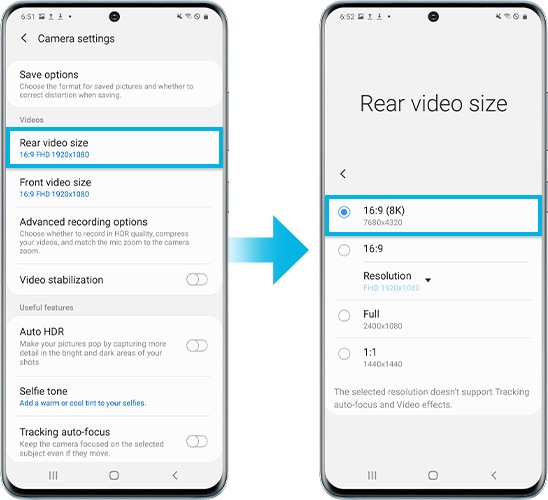 The moments you don't want to miss disappear instantly. When you want to enjoy all of the inspiring scenes, the 8K video snap is a whole new way to capture still photography. 8K video turns every frame into a crisp still that you can pinch in on for once-in-a-lifetime shots.
 
The incomparable camera capabilities of the Galaxy S20 series allow you to capture a single picture of an 8K video as a high-quality photo. If you touch the Snap icon while an 8K video is playing, it will be saved as a picture just like screen capture.
 
However, it is quite different from a normal screen capture. Screen captures usually degrade the image quality, but this feature provides easy extraction maintaining high resolution just as if it was an actual shot.
Note: Extracted photography from 8K videos you recorded is high resolution 33MP.

Please answer all questions.
The coding for Contact US > Call > View more function. And this text is only displayed on the editor page, please do not delet this component from Support Home. Thank you