Stay fit, productive and connected
In a world of self-isolation and quarantine, the need to be connected is more important than ever. We are all turning living rooms into classrooms, gyms and offices and video calling with our friends, family, colleagues and business partners to adjust to the current situation. Samsung is dedicated to helping people to stay fit, productive and connected with its cutting-edge technologies. Therefore, we would like to share 5 tips with you to enrich your daily routines.
1.  Keep your mind and body active with the Samsung Health app*. The app offers tips and trackers to help you stay strong from the comfort of your own home. In the 'Discover' category, you can explore various fitness programs. If you are looking for some peace of mind after a busy day, you can enjoy one of the mindfulness programs enabled by Samsung's partnership with leading wellness company Calm.
2.  Connect with Google Duo. Samsung has partnered with Google to bring video calling with FHD clarity to Google Duo for the first time ever**. Not only does Google Duo offer high-quality, high-speed video calling, it allows up to twelve people to join a video conference. Never miss a moment when working from home.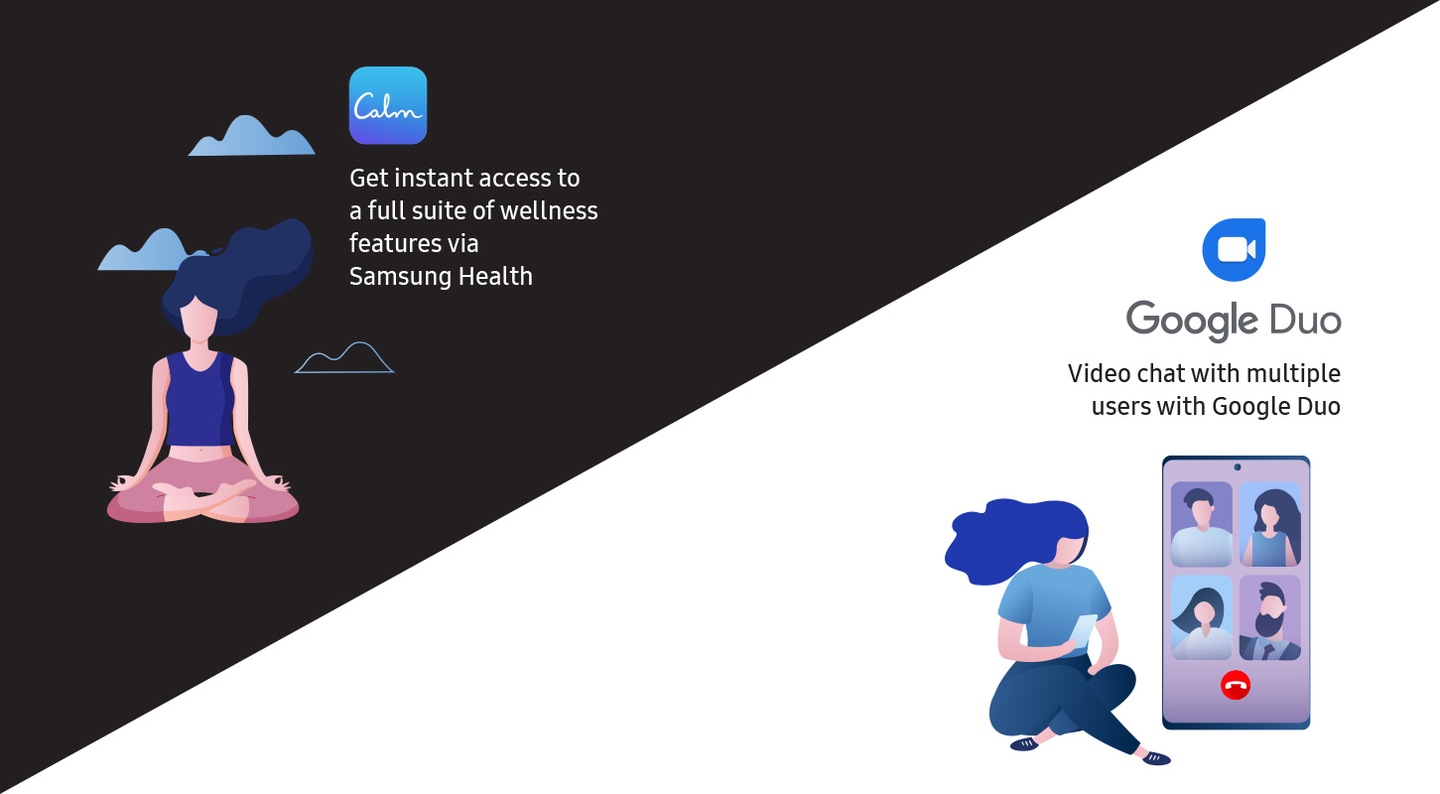 3.  Keep the temperature in your home comfortable during your daily job, your at-home workout and during sleep. Our Wind-Free™ Wall-Mount makes sure you stay comfortably cool by spreading fresh air uniformly without any cold drafts. It analyses room conditions and usage patterns to automatically adjust room temperature so that you always enjoy optimal indoor comfort. Read more about our Wind-Free™ Wall-Mount range here: https://samsung.com/uk/business/climate/windfree
4.  Work seamlessly across devices with Microsoft. Having immediate access to Microsoft Office on your Galaxy device and its suite of apps can help you stay on top of things when working or learning remotely. Samsung's long-term partnership with Microsoft gives you access to the tools you need to manage work and life, such as scanning and signing PDFs and converting pictures to an Excel table.
5.  Enjoy your favorite playlist on Spotify to stay focused when working or studying remotely.  

Please take care of yourself and your loved ones and stay connected to each other.

*The latest Samsung Health app can be downloaded via the Samsung Galaxy Store or Google Play Store. Availability varies by market.
**FHD-quality and wide-angle mode Google Duo integration is currently available on Galaxy S20 and Galaxy Z Flip devices. Availability may differ by model, market or carrier.