Outdoor digital signage and window displays
Captivate your audience 24/7, rain or shine, open or closed. With Samsung, you can extend your message beyond your business, whether it's in your storefront window or outside in the elements. Ready to work around the clock, Samsung outdoor digital signage and window displays empower you to always present a dynamic and vibrant message.
All-weather durability, by design
Our outdoor smart signage solutions are specially engineered from the ground up to weather the elements with high-brightness, protective glass and IP56 certification. You can display your message in heat, cold, rain, snow and dust.

Shine in any light
Samsung's high brightness outdoor digital displays deliver excellent legibility and visibility, even in bright sunlight. Built-in dimming sensors automatically adjust brightness based on the ambient light to optimize visibility for day or night, while maintaining efficient operating costs for your business. And our circular polarizing technology allows content to be easily viewed even while wearing polarized sunglasses.
Easy content management and playback
Play and manage your content right out of the box with our embedded MagicInfo solution. Backed by the powerful Tizen operating system, you can easily manage content and ensure seamless content transitions and playback. All without the need for an external signage player or PC.

Outdoor and window digital signage solutions
Explore outdoor and window displays from full outdoor to dual-sided window-facing signage.
OH Series outdoor displays
Completely integrated, self-contained digital outdoor displays that are certified to withstand the elements and provide excellent visibility around the clock, in any light.
OM Series window displays
Showcase your message in indoor environments with high ambient light, such as window displays, retail storefronts and bank branches.
Top outdoor and window digital signage displays
Resources to make the most of your outdoor and window digital signage
INFOGRAPHIC

Explore using super-bright displays to connect with customers.
WHITE PAPER

Sign up to download your free guide on optimizing outdoor communications with state-of-the-art, high brightness display technology.
CASE STUDY

See how Beer Park by Budweiser in Las Vegas leveraged Samsung high brightness displays to provide a world-class sports viewing experience throughout the day and night.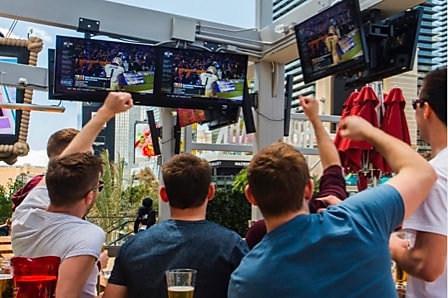 Discover related signage solutions
Contact an outdoor and window digital signage sales expert
Please provide your contact details and our sales team will get back to you about Samsung outdoor and window digital signage. Or you can call (866) 726-4249 to talk to an expert now.
© 2023 Samsung Electronics America, Inc. All rights reserved. Samsung is a registered trademark of Samsung Electronics Co., Ltd. All products, logos and brand names are trademarks or registered trademarks of their respective companies. Screen images simulated.
Stay in the know
Contact a sales expert
Get in touch with our sales team to discuss tailored solutions for your business. You can call (866) 726-4249 to talk to an expert now, or use the form below to submit your requests.
Get product support
Find manuals, downloads, warranty information and more. We also offer FAQs and demos to help with business product questions.