Samsung Pro TV: a stunning 4K business TV with customizable possibilities
Simply captivating
Create lasting impressions with brilliant Crystal UHD picture quality.
Do more with your Pro TV
A high-performance TV that won't let you or your customers down.
Customize your content and go
Set up your TV with custom content quickly and easily.
Powerful Crystal UHD picture quality
The Pro TV delivers super crisp and clear picture that is 4X more powerful than the resolution of full HD. Crystal UHD takes your content to the next level by providing more accurate and smoother colors.
Experience brilliant color, now
See colors the way they were intended. With an ultra-fast Crystal 4K processor, content is shown in brilliant 4K no matter the source.
Every detail counts
Your customers want to know exactly how it looks. With Samsung's Pro TV with high dynamic range, you can showcase every detail in a wide spectrum of colors.
Slim and modern
With a super-slim bezel, Samsung's Pro TV leaves more room for your content.
The right size, right now
With sizes ranging from 43 to 75 inches, this Pro TV naturally fits your space.
Beautiful TVs, attractive price
A sleek, feature-rich TV that's right for you and your wallet.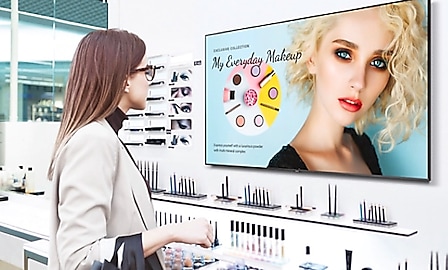 A TV you can count on
Day in and day out, you can depend on your Pro TV to play what you want, when you want it.
Peace of mind
Rest easy knowing you have a 3-year warranty and proven quality assurance from Samsung.
Plug and play the content you want
Watch what your customers want to watch. From the big game to prime-time news, broadcasted by cable or external media player, you are in control.
Ready. Set. Go.
With the Samsung Business TV app on your phone or tablet, create dynamic content on your time. A super-easy guide to walks you through the setup. Advertising your business has never been simpler or more convenient.
Not a content expert? No problem.
In three easy steps, you can create and upload dynamic, eye-catching content to multiple TVs from your smartphone or tablet.
Easily stream content
Samsung's Pro TV enables business owners to stream their favorite content from YouTube and more while continuing to promote their business.
Talk to your customers
With a few clicks of a button, seamlessly update the latest information and promotions on your Pro TV. Content becomes as dynamic as your customers.
Create eye-catching content
With the Samsung Business TV App, choose from more than 100 customizable templates that upload easily to your TVs.
Pro TV offering 4K and easily customizable content
Explore our wide selection of digital signage
Samsung Pro TV Terrace Edition
Samsung's Pro TV Terrace Edition offers an ultra-bright, outdoor, 4K QLED resolution display with an IP55 weatherproof rating and an easy-to-use content app.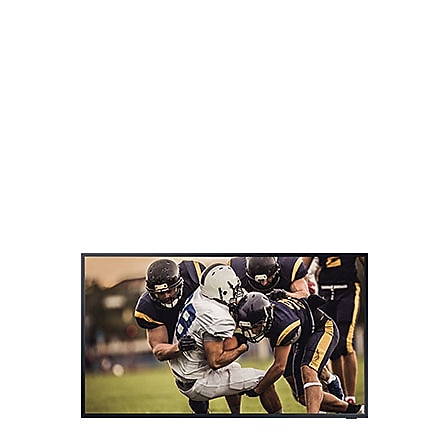 4K displays and Ultra HD signage
Samsung's 4K Ultra HD displays deliver stunning, lifelike image quality for a high-impact way to communicate your message.

8K QLED displays & digital signage
Samsung's QLED displays and digital signage deliver realistic detail and vibrant color to showcase your business in the best light.

Contact a business TV sales expert
Please provide your contact details and our sales team will get back to you about Samsung's Pro TV.
© 2023 Samsung Electronics America, Inc. All rights reserved. Samsung is a registered trademark of Samsung Electronics Co., Ltd. All products, logos and brand names are trademarks or registered trademarks of their respective companies. Screen images simulated.
Stay in the know
Contact a sales expert
Get in touch with our sales team to discuss tailored solutions for your business. You can call (866) 726-4249 to talk to an expert now, or use the form below to submit your requests.
Get product support
Find manuals, downloads, warranty information and more. We also offer FAQs and demos to help with business product questions.