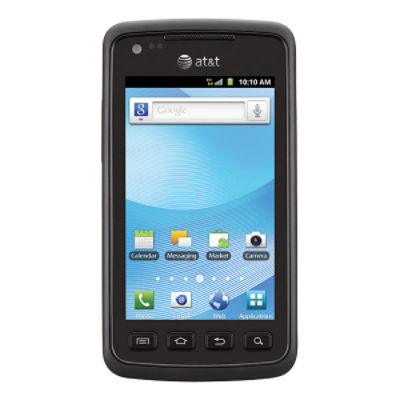 Rugby 512MB (AT&T)
SGH-I847ZKAATT
Rugby 512MB (AT&T)
is rated out of
5
by
110
.
Rated

5

out of

5
by
Elderberry
from
A true test of how waterproof it is.
I have had my Rugby Smart for about a year and then I lost it. The problem was, I had been working in the garage, in the back yard and even up in the attic. It could be anywhere and I looked all over to no avail. Of course I found it in the last place I looked. I was washing my dirty clothes and I wondered if it could have been in my pant's pocket. Sure enough, the phone was in the bottom of the washer. It had agitator scratches on the screen protector. I pulled it out and hit the wake up button and the screen looked perfect. I then made a call, but I could not hear thru the earphone speaker. I put it on speaker and that worked fine. A couple of hours later, I made a call and the earphone speaker had dried out and it worked fine.
Date published: 2015-03-02
Rated

5

out of

5
by
Melissa11
from
Durable
This phone is everything an active person needs in a durable package
Date published: 2015-02-02
Rated

5

out of

5
by
MtnGuy
from
The Rugby performs as advertised and is durable
I've has this phone now for about 8 months now. I live in the Sierra's. It's fallen in the snow, dropped on the ground and been in the rain. It's already had a brutal life and thus far, it's survived everything thats happened to it. Works well. Reception is very good giving the fact I'm some distance from a cell tower. My last phone, if I stepped outside would get about two bars on a good day. The receiver on the phone is alot better and now I get (usually 4 bars) and on a good day, all 5 bars. Simple to use and battery life is alot better than previous phones I've had. It's made my life alot easier. I've expanded memory (SD card) and I have really nothing to complain about. My one and only gripe is, how does one clear the phone logs ? Other than that, I'd recommend this in a heart beat. Great phone. Durable and battery life is alot better than most.
Date published: 2014-07-31
Rated

5

out of

5
by
Geo2002
from
Finally a step in the good direction
I purchased the RUGBY some time ago and the only real question I wanted answered was: IF I DROP THE PHONE ON THE GROUND, WILL IT STILL WORK? As a member of the military, I can tell you that I smashed my fair amount of devices until I finally came across this phone. I wanted a phone that I didn't have to worry about and after going through water, mud, dirt and the obvious few falls, my phone remains in perfect working condition with not one scratch to account for. This phone doesn't come in pretty colours (ITS BLACK) and I haven't found any accessories like covers or screen protectors but I didn't have to look for any because it doesn't need it. If you're not looking for a fashion statement, this could be the phone for you.
Date published: 2014-07-31