Charging Tips and Precautions for Gear IconX (2018)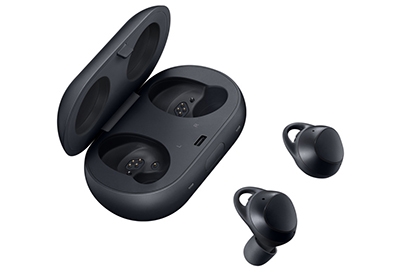 We give you the inside scoop on battery charging tips and precautions to prevent damage to your Gear IconX. Follow along to learn how to protect your earbuds.
Battery Life
Gear IconX earbuds last up to 7 hours (Standalone Mode) and 5 hours (Bluetooth Mode) when fully charged, so you get plenty of time to hear your favorite songs. If you are using the earbuds to take calls, they can last up to 4 hours. A fully charged case provides one extra charge on the go.

Reducing Battery Consumption
Your earbuds provide various options that help you conserve battery power. Check it out:
When you are not using the earbuds, keep them in the charged charging case.

Change the notification settings from the connected phone's Samsung Gear app.
Battery Charging Tips and Precautions
Take care of your Gear IconX by keeping these tips in mind.
If there is any form of liquid, including sweat, on the charging terminals, corrosion may occur on the terminals. Clean the terminals before charging the battery.

Using a power source other than the charger, such as a computer, may result in a slower charging speed due to a lower electric current.

While charging, the earbuds and the charging case may heat up. This is normal and should not affect the earbuds' lifespan or performance. If the battery heats up more than usual, the charger may stop charging.

If the earbuds and the charging case are completely discharged, it may take a while for them to start charging.

If the earbuds and charging case are not charging properly, visit a local Samsung Service Center with your earbuds and charger.

Avoid bending the charger. Doing so may damage or reduce the lifespan of the charger. Never use a damaged charger.

For more information about the battery, such as the usage time, refer to the Samsung website.
Other answers that might help
How would you like to contact us?
1-800-SAMSUNG Mon – Sun: 8AM – 12AM (EST)
mobile|audio|headphones|in-ear|gear-iconx-2018