A Dolby Theater in Your Pocket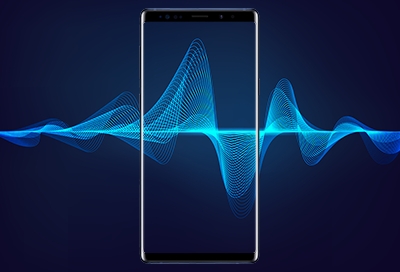 You always use your Galaxy S9/S9+ or Note9 to watch movies or listen to music because it's like your very own portable entertainment center. Actually, it's better than that - it's your own mini theater or concert hall. With its Dolby Atmos feature, your Galaxy phone will have cinema-quality surround sound. Learn how to adjust the settings for Dolby Atmos and other audio settings, so you can enjoy stunning audio at any time.

Available screen and settings may vary based on the wireless carrier or software version.
Turn On Dolby Atmos
Whether you're watching a zombie movie or listening to some slow jams, Dolby Atmos will give you a superior listening experience. Just make sure that the feature is turned on and that you've chosen the best setting for what you're watching or listening to. Keep reading to learn how.
Using two fingers, swipe down from the top of the screen to open the Quick Settings panel. Swipe to and touch Dolby Atmos to turn it on or off. To access more advanced settings for Dolby Atmos, touch and hold the icon. Then, select your desired setting for the type of entertainment you're using.
Following settings are available:
Auto: Optimize sound automatically for whatever you're listening to. The speakers will adjust themselves so you get the perfect sound.


Movie: Deliver the best possible audio for films, shows, and movies, so you'll feel completely immersed.

Music: Make all your music sound richer, fuller, and more balanced.

Voice: Makes voices loud and clear, so they don't get drowned out by background noise.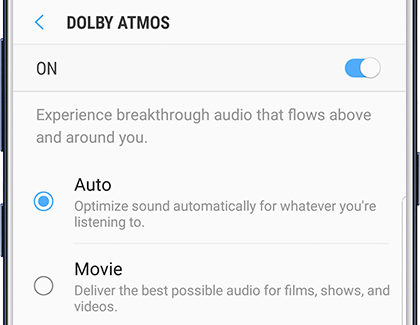 Equalizer Settings
You love this song, but something sounds funny: the singer's voice is overpowering the instrumentals. Instead of blaming the singer, adjust the Eqaulizer settings. You can also adjust other audio settings to make the song sound even better.
From Settings, search for and select Sound quality and effects. Touch Equalizer to choose your desired settings. Each option automatically adjusts the bass, treble, instruments, and vocal settings to fit the genre of music you are listening to and give you the best possible sound. You can choose Normal, Pop, Classic, Jazz, Rock, and Custom.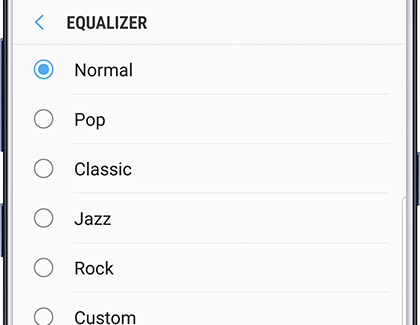 You can also adjust the settings manually, so they match your personal preferences. For example, maybe you love to feel that low bass when you're listening to some punk music.
Under SOUND QUALITY AND EFFECTS, use your finger to move the scroller around the circle and adjust the amount of Bass or Treble in audio. You can also adjust the Instrument and Vocal settings for songs using the same steps. To see more advanced Equalizer settings, touch ADVANCED. Use your finger to move the scroller bars up or down and adjust the different audio settings.
Note: To return to the basic Equalizer settings, touch BASICS.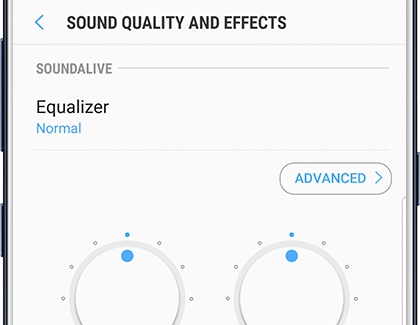 UHQ Upscaler
This option is only available when your headphones are plugged in.
Dolby Atmos makes everything sound amazing! Well, guess what? Your phone's audio can sound even better when you use the UHQ upscaler features. If you're wondering, UHQ stands for Ultra High Quality. Keep reading to get it on your phone.
From Settings, search for and select Sound quality and effects and then touch UHQ upscaler. In audio, a "bit" is how much information is in a sample. Bit upscaling can help all that info - the audio - sound clearer. You can choose between the two following settings:

Bit upscaling: The default setting when you plug in headphones.

Bit and bandwidth upscaling: A more advanced upscaling option that will make the sound quality higher.
To see more UHQ settings, touch Back. If you love the classic sound of a tube amplifier (think classic rock n' roll), touch the slider next to Tube Amp Pro. This feature will simulate the soft timbre of a tube amplifier.
Or, if you love the way concert halls sound, touch the slider next to Concert hall. This feature will stimulate the reverb of a concert hall.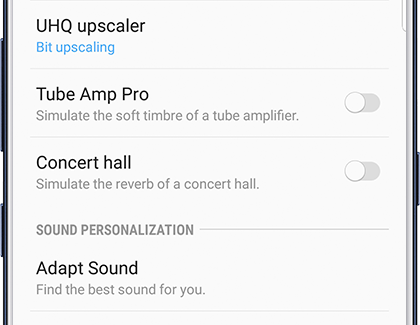 Sound Personalization
We all hear sound differently. With Sound Personalization, you can choose the type of sound that works best for you.
From Settings, search for and select Sound quality and effects. Then, scroll to and touch Adapt Sound and then choose your age group. To hear a preview of the different options, touch the Gear icon and then follow the on-screen instructions.
You can also create a sound profile based on your own hearing ability. Touch ADD PERSONALIZED SOUND PROFILE and then touch START. Follow the on-screen instructions to take a hearing test and create your very own sound profile.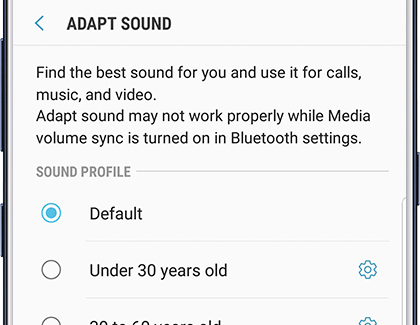 How would you like to contact us?
1-800-SAMSUNG Mon – Sun: 8AM – 12AM (EST)
mobile|phones|galaxy-note|note9