How to unbox and set up your Samsung Jetbot Mop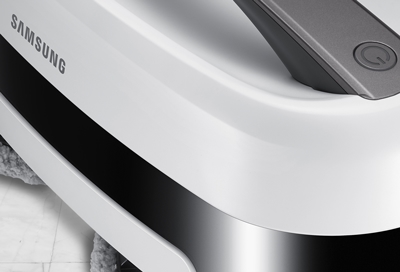 There's no need to drag around a normal mop anymore now that you have a new Jetbot Mop! It will move across your hardwood and tile floors on its own to help with your daily chores. But before you start cleaning, you should know exactly what's included in the box. You'll need to attach the mop pads and water supply kits to properly clean your floors, and use the approved charging adapter to charge your Jetbot Mop before its first use. Plus, you can review our cleaning information for maintaining your mop.
Unbox your Jetbot Mop
Your Jetbot Mop comes with everything you need to start cleaning. You can also use various cleaning modes to give your floors some extra scrubbing.
The main unit of your Jetbot Mop has an obstacle detection sensor and a cliff detection sensor. These sensors will activate during the Jetbot Mop's cleaning modes to help it move around your home. It also has a handle for manual cleaning.

The floor plate is used for storing your Jetbot Mop after you've used it.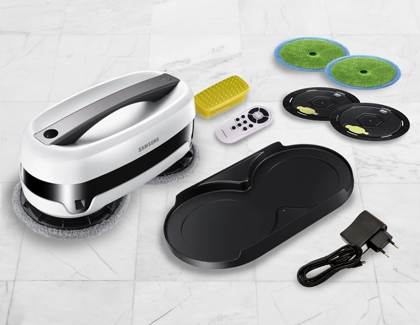 The water supply mop kits are necessary for mopping your floors. Before beginning a cycle, they should be filled with clean water and attached to the main unit.

The mop pads are made from mother yarn and microfiber. There are two of each type and they should be attached to the water supply mop kits prior to cleaning. Before using the mop pads for the first time, they should be washed using a natural detergent and left to dry. When you're finished with a cycle, make sure to remove the mop pads and wash them again. They should be completely dry before using them for another cleaning cycle.

The remote control can be used to start cleaning modes and to direct your Jetbot Mop manually. Insert the included batteries and point it at the Jetbot Mop to connect it.

The power adapter should be used to charge the main unit. Do not use any other charger when charging your Jetbot Mop.

The silicone brush can be used for cleaning the mop pads after they've been used.
Set up your Jetbot Mop for the first time
Note: Do not use the main unit without first attaching the water supply mop kits. This may damage the device.
There are a few things to take care of before using your Jetbot Mop. The main unit will need to be fully charged, and the mop pads should be clean and dry. When you are finished with the setup or have already set up your Jetbot Mop, check out our cleaning guide for help when using your Jetbot Mop.
Remove all of the protective film and packaging material from the JetBot Mop. In particular, make sure to remove the clear film that covers the sensors so they can work correctly.

Start by charging the main unit of your Jetbot Mop with the power adapter. Leave it plugged in until the LED notification light turns off.

Next, select your mop pads. Wash them using clean water and a natural detergent, and scrub them gently with the silicone brush. Allow them to dry thoroughly before proceeding to the next step.

Then, attach the mop pads to the water supply kits using the Velcro sides.

The water supply kits will need to be filled with clean water and attached to the main unit. Open the small rubber caps on the water supply kits to fill them. Make sure the rubber caps are closed tightly before attaching them to the bottom of the main unit. Press down gently while turning them from side to side to secure them to the main unit; they will click when they are attached.

Press and hold the Operation button on your Jetbot Mop for two seconds. You'll hear a beep, and the light will stay on.

Now you can begin cleaning! When you're finished, make sure to disassemble the water supply kits and mop pads. The water supply kits should be drained of any remaining water and the mop pads should be cleaned with natural detergent and left to dry.

Store the main unit on the floor plate in a cool, dry place.
Clean the sensors
Your Jetbot Mop's main unit has two sensors on it that need to be cleaned regularly.
The obstacle detection sensor will recognize objects around your home, such as furniture or children's toys, that may be blocking its path. The cliff detection sensor will prevent the Jetbot Mop from accidentally falling down a staircase or a ledge in between rooms.
Both sensors may become dusty after a while but need to remain clean so your Jetbot Mop doesn't bump into anything. It's also helpful to clear the surrounding area before using the Jetbot Mop on your floors.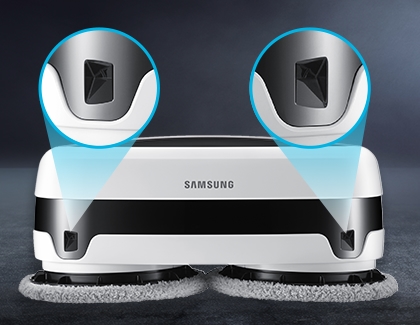 You can clean the sensors using a soft microfiber cloth or cotton cloth. A dry cloth works too, or you can dampen it. Although the sensors are sensitive to benzene or alcohol products, you're welcome to use any other cleaning product (or even just plain water). If any other parts of the main unit are dusty or dirty, they can be wiped down as well.
Clean the mop pads
There are two types of mop pads included with your Jetbot Mop: gray mother yarn mop pads and green microfiber mop pads. No matter which ones you use, they should be cleaned after using your Jetbot Mop.
First, turn off the Jetbot Mop, and then detach the mop pads from the water supply kits.

Wet the mop pads with clean water. You may mix in a small amount of detergent if you wish.

Using the included silicone brush, gently clean the mop pads.

Wring out the excess water and allow the mop pads to dry before using them again.

Drain any extra water from the water supply kits.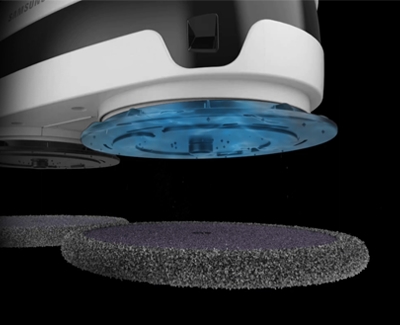 Maintain the water supply mop kits
Caution: Remove and allow the mop pads to dry after use. Do not leave wet mops on floors for an extended period of time, as you risk damaging your floors.
To ensure they last as long as possible, you should maintain your water supply mop kits every time you finish cleaning with the Jetbot Mop. All you need to do is remove the mop kit and pour out any leftover water.
Separate the water supply mop kit from the main unit after you're done using the mopping robot. Pull out the water supply mop kit by hand. If it is hard to pull out, twist it a little bit.

Open the rubber cap and pour out any remaining water from the water supply mop kit.

If the water supply is not working well, wash the water supply wick, as shown in the following pictures.

First, remove the small water supply wick.

Then, rinse it with clean water. When it's dry, reinsert the wick back in the mop.
Other answers that might help
Contact us
We're here for you.
1-800-SAMSUNG

8 AM - 12 AM EST 7 days a week

IT/ Computing - 8 AM to 9 PM EST Mon to Fri

Request a call
Want help right away?
Email as a contact option was discontinued as of April 3rd, 2019. Please contact us via Live Chat for a faster response.
Call or Text Us
Give us a call
How can we help you?
Mobile

8 AM - 12 AM EST

7 days a week

Home Electronics & Appliance

8 AM - 12 AM EST

7 days a week

IT/Computing

8 AM - 9 PM EST

7 days a week

Text Support

24 hours a day

7 Days a Week
home-appliances|vacuums|jetbot-mop
We're here for you
Contact Samsung Support
Contact us online through chat and get support from an expert on your computer, mobile device or tablet. Support is also available on your mobile device through the Samsung Members App.