Eating healthily shouldn't mean missing out! Here's the thing, fried favourites like French fries and fried chicken may not be off limits. Introducing Samsung microwaves with Slim Fry technology that lets you prepare your favourite fried food using very little oil.
Designed to fit any Kitchen
The elegant Samsung Slim Fry Microwave offers a sleek, premium design to seamlessly fit any kitchen decor. It offers an appealing clean look that will complement your kitchen appliances, and won't look out of place in a modern or transitional kitchen.
Designed with innovation
Samsung Slim Fry Microwave includes a range of smart features such as HotBlast technology that reduces cooking time significantly, EASY VIEW glass that lets you check on your cooking without opening the door, Eco Mode that reduces energy consumption and much more.
Designed for a reason
Healthy is increasingly becoming an important aspect that we are looking to put on our plates. however, most of us are fond of fried foods, while knowing that frying might add a huge amount of calories and fat to our diet. As we bring changes in our eating habits, it is hard to just settle for eating healthier homemade food, as it does not taste the same.  It's for this reason that we at Samsung are pleased to offer you a unique and exclusive feature in the market that promises the same great taste of the fried foods, only with a lot less oil. The SLIM FRY technology – a unique built-in feature in Samsung Microwave.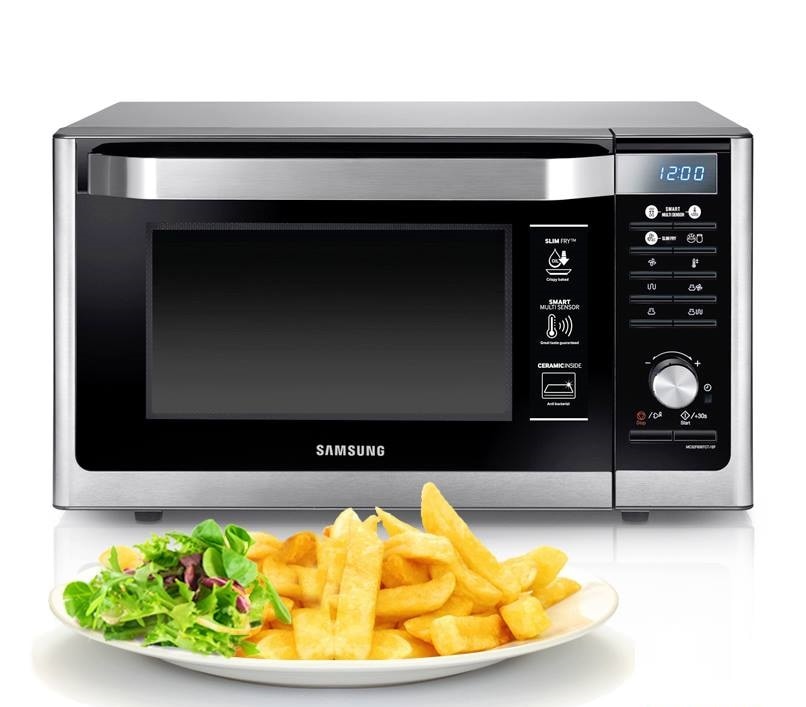 Designed to let you enjoy healthier fried food
Samsung's SLIM FRY technology lets you enjoy healthier fried food without a deep fryer or even an Air Fryer. The technology itself combines a grill with warm air circulation, so food is cooked crispy inside and out using only a touch of oil. And no greasy pans or splatters!

A microwave with a built-in SLIM FRY technology that promises to fry your food using only a touch of oil – well that's innovation worth talking about and a step to a happier and healthier you.