Small changes can make a huge difference to any room.
Whether you're looking at designing a new room or spice things up in your current home, we compiled some of the most important details to take into account when designing a space. From bold colours to unconventional accessories, here are 7 ways to enhance your interior design.
1. Don't overdo your theme
While it is a good idea to have a theme and a colour palette for your home, resist the urge to overdo it. For example, if you pick a marine theme, avoid going all-in with only navy blue and white shades paired with nautical themed accessories. Prefer subtle touches to reveal your personality. Small pieces put a room together, and it usually looks better to have a few accessories to show your interests and create a homey atmosphere rather than copying a style straight from someone else's home or an interior décor magazine.
2. Create a focal point
In home interior design, there are usually leading pieces and supporting accessories. A focal point will be the centre of a room, while other items will take on a secondary role. Choose your focal point wisely depending on your interests and the room you pick. For example, in your living or TV room, a Curved TV will draw attention to the centre of the room and bring forward a polished and minimalist atmosphere. The sofas, sound system and lighting elements will support this statement piece.
If you go for a minimalist theme, the boundless design of SUHD TV is a great complement to the fine lines and clean back of the screen. In comparison to a flat screen TV, the Curved TV will give you a wider and deeper picture, as well as more comfort for the viewer through a uniformed viewing distance and an optimal curvature. 
3. Choose bold wall colours
Choosing a colour for your walls is an important decision. You need to take into account the colour of your furniture, artwork, rug and accessories before picking the right shade for your walls. Don't be afraid to go bold and pick another shade than plain white! Remember than your wall colours will affect your mood on a daily basis. It's advised to stay clear from red colours in a bedroom as it tends to excite more than relax. Better go for green shades for this room, which incite tranquillity and relaxation, and keep the red shades for the dining or living room for example.
4. Mix lines and curves
Contrast straight lines and curves for a visually attractive combination. Think about a C-shaped sofa or a Curved TV to contrast with a rectangular coffee table. Pairing voids with solids works well too. A side table with thin wooden legs is best paired with a solid armchair for example. The most subtle parts of a design are sometimes the most important. Lines and curves should be used in the foreground or background, to add visual interest and texture to the overall feeling of the room. For instance, curved lines with long variances create a sense of easiness and calm, while tight curves might bring more drama and energy to the room.
5. Select your accessories
If you tend to collect things from your travels, life events, or just out of passion, make sure to not overdo it. Not all accessories fit in a given atmosphere, and you might have to keep some out of sight to make your theme coherent. Showcase your personal possessions to reveal your personality, but keep in mind the overall look and atmosphere of a place. If it doesn't fit, maybe it should go in another room. Mix your accessories between old and new, modern and vintage, colourful and plain, for the right mix of personality and good taste.
6. Be bold and original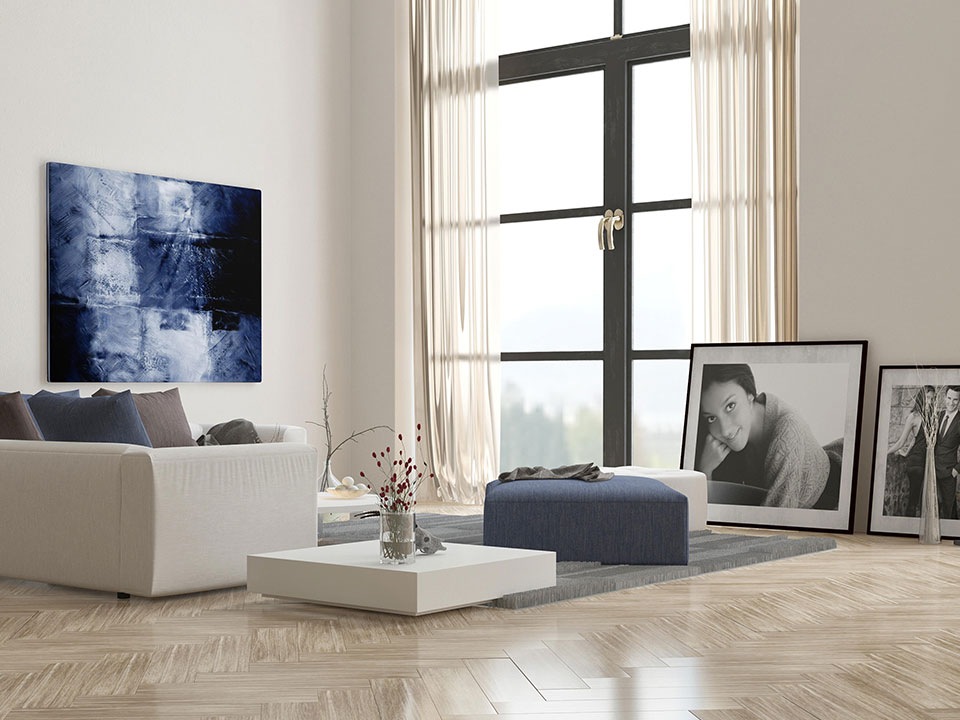 Most interior designers will tell you rules are meant to be broken, or at least bent. While it is good to have some basic guidelines to avoid busy and distasteful décor, don't hesitate to use different sizes, colour combinations and unexpected elements for touches of drama.
As long as the overall mix doesn't clash and represents your personality, adding unconventional pieces will add charisma to any room. It could be a cushion collection or a bold piece of abstract art. As long as you keep the balance between colours, it will bring a unique style to a room. Remember that walls can be repainted and furniture can be moved. Start small and get creative!
7. Let your furniture breathe
Try to not overcrowd your rooms with too many pieces of furniture. Choose fewer better quality pieces and leave space between them. A harmonious and lively living room needs space between pieces to breathe, and the overall look of it will feel more relaxed and uncluttered. Go for minimalist pieces of furniture to make your space look bigger and cleaner.
There are many ways to enhance your interior design. A well-designed home must feel comfortable and functional. Whether you are minimalist, classic, bohemian or eclectic, adapt your style to your home, and don't be afraid of a change!