How mobile technology can be your companion in your climb up the social ladder.
Are you the life of the party, the highlight of every conversation and a trendsetter everyone wants to befriend? Or is that someone you want to be?
There is a lot you can do in your pursuit of a great and active social life. An important part of it is staying connected. With technological advances, this has become much easier. You can stay in touch over phone, email, social media, instant messaging and several other ways. Planning events has also become more convenient. Instead of individually calling friends and coordinating with each of them, you can simply create a group on your instant messaging service or social networking site to get instant suggestions and RSVPs by everyone.
With the help of a smartphone, all of this can be done on a small screen in the palm of your hands wherever you are. Want to know how your phone can support you in your social life?
Dress to impress
If you're looking to make new friends, your personality, humour and common interests will naturally play a part. But another thing that makes an impression is your dress sense. People often tend to make judgements about others based on how they look and what they wear – from assessing confidence levels to determining status. Make sure you dress to impress, but also reflect your style and stay true to yourself.
The accessories you wear are given almost as much attention, whether it's your shoes or watches. Nowadays, even smartphones give people a hint of how you are. Samsung Galaxy A5 (2016), for instance, gives a premium and trendy look with its slim, palm-friendly size and beautiful metal-and-glass body. With different colours, you have enough variety to choose from to reflect your personality and style.
Patronise a few restaurants
An active social life can entail a lot of eating out and extracurricular activities with friends, especially when you are part of different groups. These regular outings can often be a bit heavy on the wallet. However, you don't always have to spend a lot to enjoy quality time with your friends. Frequent a few restaurants with different groups of friends and avail the discounts and other perks dining outlets offer regular customers.
In this social media age, a common way of updating friends on your whereabouts and patronising restaurants and stores is by 'checking in' to them online using location-based services on your smartphone. Several restaurants take multiple check-ins into account and reward your loyalty with discounts and some free meals. You'll end up spending much less when you're on a budget. Otherwise, there are always beaches, deserts and public places you can spend time at for free.
Unplanned outings
Spontaneous plans don't have to be a disaster. If you're suddenly in the mood for a burger or Italian food while in the car with your friends, simply use S Voice on your Galaxy phone to search for nearest restaurants. Getting there won't be an issue either. With navigation services on your smartphone, you can get guidance and directions to your destination without wasting time getting lost or taking wrong turns.
Snap happy
With friends, taking photos and selfies is more than capturing memories. It is also a fun activity where you get to act foolish together and just have a good time. Are you the friend everyone reaches out to for a group selfie? Maybe because you have the longest forearms or always know the right angle to take the photo from. Or perhaps because your mobile device has the best camera. At the end of the day, they expect great photos from you that are worth sharing. However, taking a group selfie isn't always a piece of cake; someone or the other ends up out of the frame.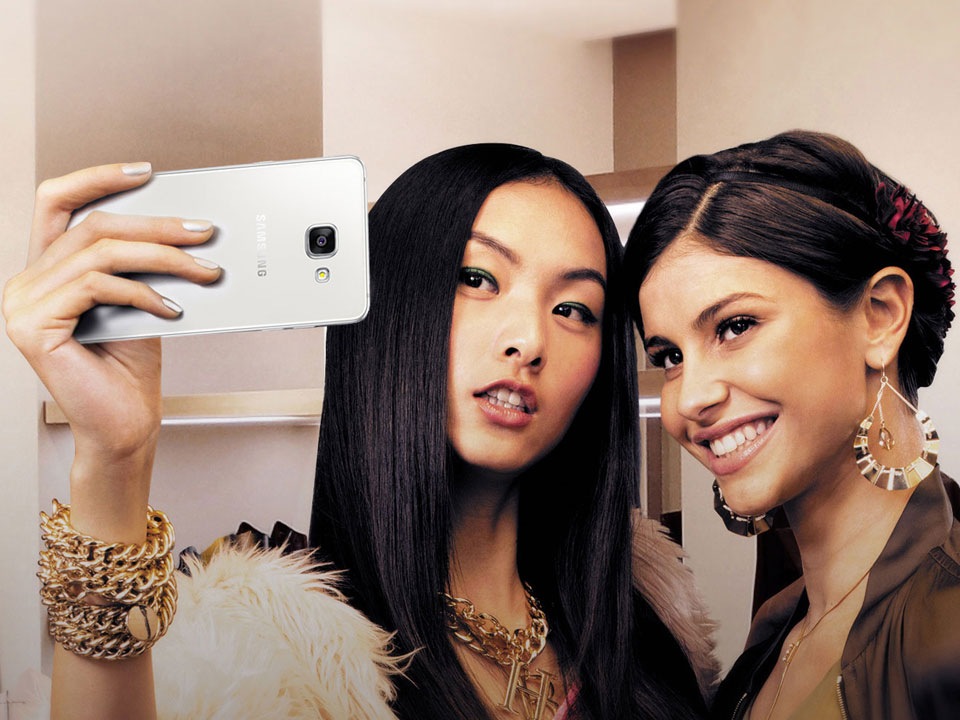 With Samsung Galaxy A5's 5MP front-facing camera and a Wide Selfie function, you can capture superb shots and don't have to miss anyone out by creating a panorama-like selfie by merging three photos taken from the left to the right.
You can also snap a selfie with a voice command or palm gesture without worrying about your fingers getting in the way. A 13MP rear camera also ensures that you capture crisp photos in all settings and chronicle your social life with ease.
Keeping memories
If you go out with your friends very frequently, there are chances that you have taken dozens (if not hundreds) of photos during each outing, for e.g. selfies with your friends, videos of dancing fountains and pictures of your meal. Over time, these images can pile up, taking up a considerable amount of space in your phone. Having a device with a large storage or additional storage capabilities can come in handy in this case. The Galaxy A5 (2016), for instance, features a 16GB storage with a microSD slot for up to 128GB of additional storage. That's plenty of space for all your photos, videos and other documents. If you still require more storage, you can take advantage of cloud solutions, such as OneDrive, which allow you to access your data from the cloud wherever you go.
Heavy consumption
A busy social life can result in heavy usage of your phone, which can also mean a heavy drain on the battery. If you spend your day constantly instant messaging friends or capturing and sharing photos online, you need to make sure you have portable charging options or a phone with a long-lasting battery.
The Galaxy A5 (2016) features a battery life of 2,900mAh to give you plenty of usage. It also has an Ultra Power Saving mode that decreases power consumption by minimising less crucial functions to avoid unnecessary drainage of your battery.
So you can stay connected with your friends without worrying about battery consumption. A fast Octa Core processor and 2GB RAM also make it easy to share content with friends quickly.
Keeping in touch
Having a good social life doesn't always have to mean that you go out a lot. It can also mean having good groups of friends that you regularly connect with. In your busy college routine, you may not have time to hang out with some of your friends, especially those from outside your university network. But with the help of your smartphone, you can still interact with them. Call your friends during your commute to university, post on their social media pages or send them an instant message between class breaks, or even do a quick video call when you're taking time off for lunch. Your smartphone is there for you to stay connected!