The Frame matches
its name
We designed The Frame to be just that, a frame. It's the gorgeous finishing touch that completes your room in a way that's simply you and transforms it into a personal gallery.
Designed to look like a picture frame
Frame-look Design
We believe every work of art deserves a frame. The Frame has bezels that are just like you'd find on an art gallery wall. Tasteful, elegant, beautiful.
Customize the bezel to match your mood
Customizable Bezel
Blend in seamlessly or give it a little pop — our customizable frames come in an attractive range of colors to fit any decor. The choice is yours. And feel free to change your mind at any time. Nifty little magnets make it easy to swap out one style for another.
* Customizable bezels sold separately. Available colors may vary by region.
Hangs like a
real frame
No Gap Wall-Mount
The Frame sits flush against the wall, just like your framed photos and pictures. So it blends in seamlessly from any angle and helps unify your interior design. Installation is also a breeze for sure.
* Measured from rear end of the TV, the gap may differ based on the installation and wall type.
* A small gap between the wall and TV may occur if wall is not 100% flat or is constructed off-angle to the floor or if installed incorrectly.
* The actual angle when tilting may vary by product size.
Cleans up
your space
One Invisible Connection
No more unsightly mess of wires. The One Invisible Connection lets The Frame become a seamless part of your interior design by connecting it to the cables hidden away in the One Connect Box.
* Devices must be connected to One Connect Box.
* Compatible devices only.
Make it a stylish design piece
Stand Options
Think different. Put The Frame anywhere you like with various TV stand options that match you and the style of your interior.
* The Studio Stand may be sold separately.
* Availability of Studio Stand may vary by region and TV's size.
* The Frame is only available with VG-SEST11K.
What's in the Box
Even unboxing The Frame is a thrill, full of possibility: it comes with the No-Gap Wall Mount and Standard Stand,
so you can get your space looking just how you want it right away.
See the beautiful details from different angles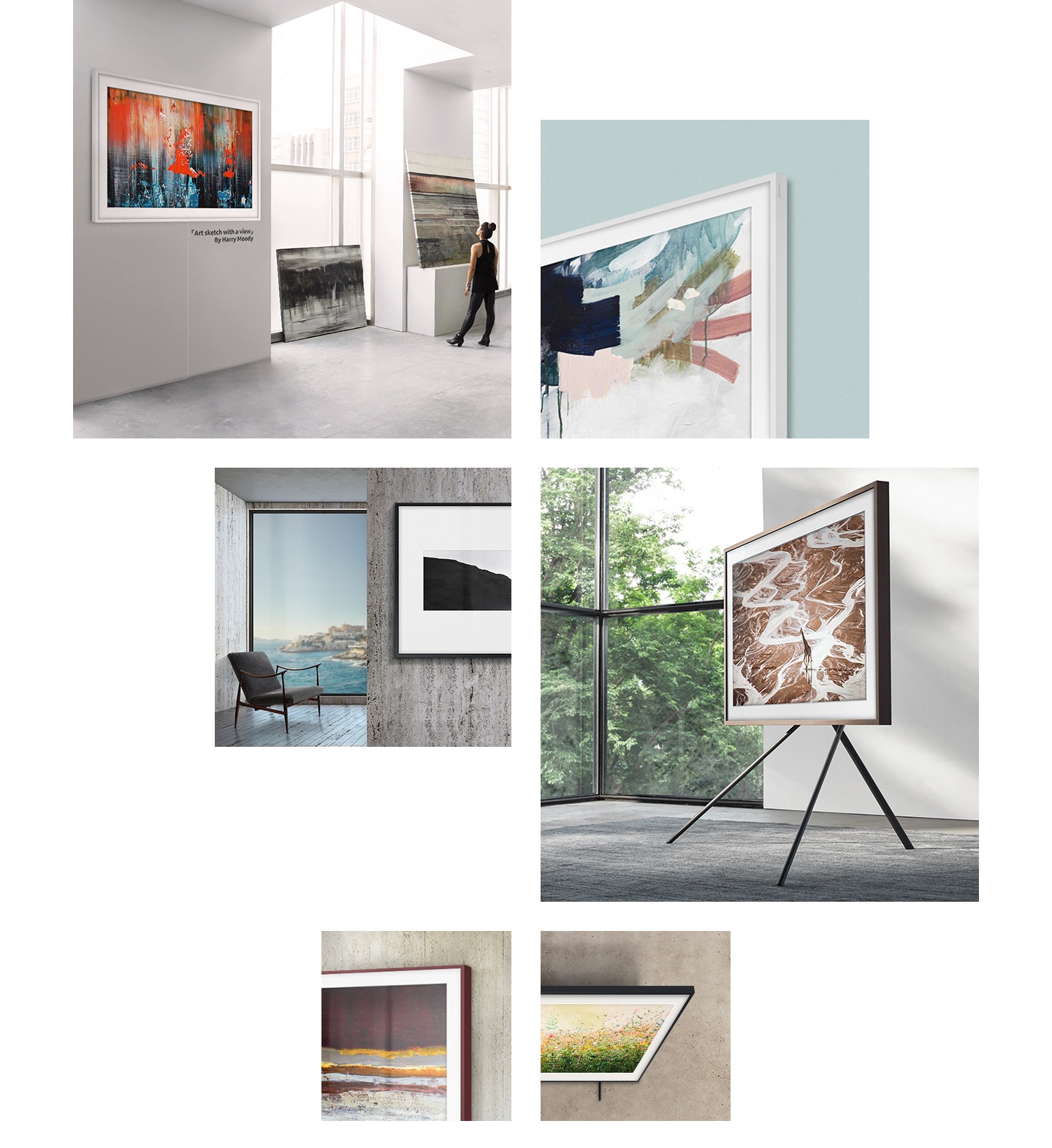 Art Mode
What is different about The Frame?
Explore the ways you can fill your space with art.
* Images are simulated and for illustration purposes only. Appearance, design, and GUI(Graphic User Interface) specifications not affecting product performance are subject to change without notice.
* Actual products including remote control may differ from image shown. Please see our product gallery.
* The screen is on a stand and tilted back at a slight angle. This angle is not adjustable.