It was a challenge to turn television into an art form. The elegant Frame TV goes beyond the conventional by turning your living space into a gallery. Every detail is designed to elevate your room with artistic appeal.
Elegant frame design that goes beyond TV
Customise to your style
Customisable Frame
The choice is yours when it comes to The Frame. Select the customisable frame that suits your space, taste, or artwork and easily change-up the look of your room. Magnets make it simple to attach and detach bezels for a different style.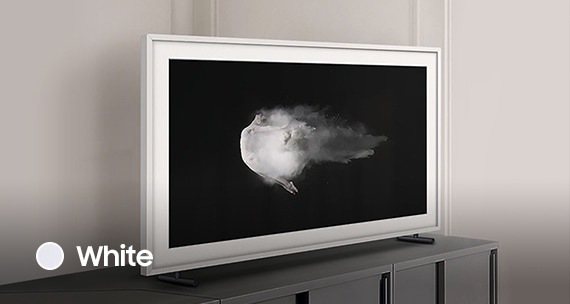 *Each customisable Frame is sold separately.
Hangs like a real frame
Slim Fit Wall-Mount
Installing The Frame is simple and quick, with easy sideways, back and forward tilt functions so you can achieve the right viewing angle for your room. Gorgeous from all sides, The Frame is designed to fit effortlessly into your space.
Tilt top and bottom to find a great viewing angle.
Adjust around 6° left or right to hang the Frame beautifully level.
*Slim Fit Wall-Mount measured from rear end of the TV, the gap may differ based on the installation and wall type. A small gap between the wall and TV may occur if wall is not 100% flat or is constructed off-angle to the floor or if installed incorrectly. The actual angle when tilting may vary by product size.
Streamline your space
One Clear Connection
De-clutter your space. Connect compatible devices to The Frame from the One Connect Box with a single, thin cable and enjoy a sleek, minimalist look free of messy wiring.
The transparent cable connects compatible devices to the TV through the One Connect Box. Store your devices out of sight and enjoy a beautifully de-cluttered decor with only a single, slim cable from The Frame.
*One Clear Connection is a single cable connecting the TV to a One Connect Box integrating external device cables and power cable.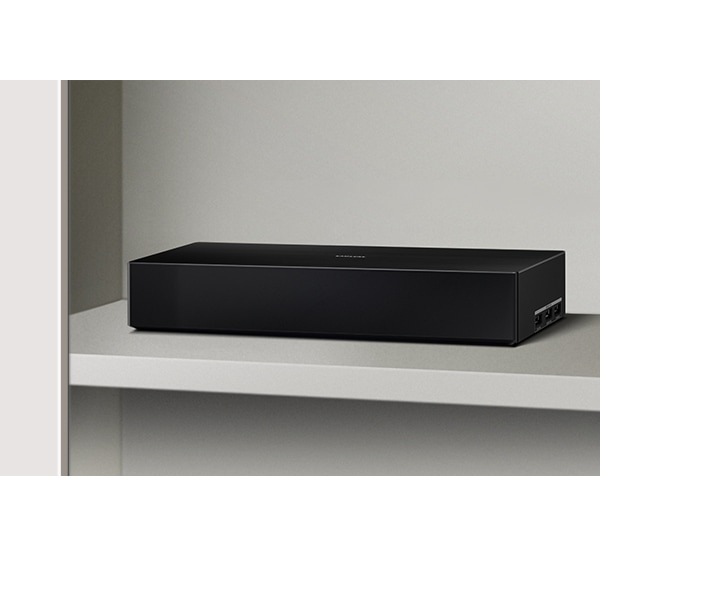 Transform your room into a gallery
Stand Options
Think differently. Place The Frame virtually anywhere in your space, with various stand options to match the style of your interior.
The Frame
Designed for your space
Multiple ways to showcase your art
Layouts and Colour
Customising the presentation of art is simple on The Frame. Choose from a variety of matte layouts and colours to complement each piece and add a personal creative touch to on-screen displays.*
*Some matte layout options are only available through the mobile app. Matte: The blank area that serves to highlight the art piece within the frame.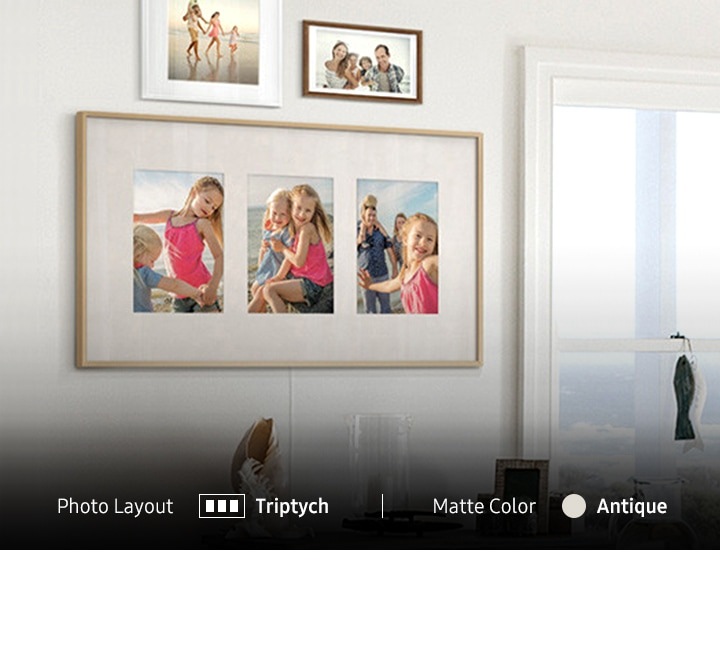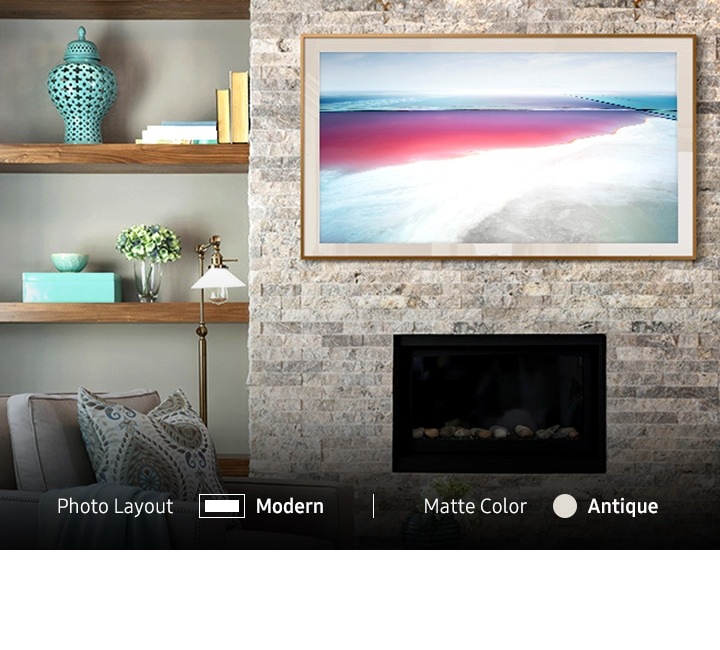 Curate your favourites
Favourites
Create a personalised gallery of favourite art for display in your living room. Select and mark the pieces you like as favourites and keep them all in one place.
Change the atmosphere
Slideshow Settings
Enjoy the art you like at the time you want. Select the pieces you want to see, then set the time for how long they will appear on-screen.
Senses your presence
Motion Sensor
When you're nearby, the Motion Sensor can detect your presence and turn the screen on, so you can enjoy your favorite art. When you leave, the screen can turn off.
*Motion Sensor operates when turned on in Art Mode. Performance may vary depending on lighting conditions.
Appreciate art day or night
Brightness Sensor
By detecting the ambient light, the Brightness Sensor automatically balances the screen's brightness and colour tone to help create natural illumination levels. So whether it's day or night, you can enjoy your favourite art.
*Performance may vary depending on the ambient brightness level.
Screen and product images simulated for illustrative purposes. Content may vary by region. All brand, product, service names and logos are trademarks and/or registered trademarks of their respective owners and are hereby recognised and acknowledged. References to third parties do not constitute any recommendation, approval, endorsement, authorisation, sponsorship or affiliation by Samsung of those third parties. The opinions expressed in the quotes provided are the opinion of the person quoted and should not be taken to reflect the views or opinions of Samsung Electronics Australia.