579L French Door Refrigerator - SRF579DLS
RF67DESL1/XSA
579L French Door Refrigerator - SRF579DLS
is rated out of
5
by
25
.
Twin Cooling System
Keep your food fresh for a long time with the Twin Cooling system. Two separate coolers maintain freezer and refrigerator conditions independently; therefore it minimises the risk of unpleasant mixing of odours. The Twin Cooling Plus system also helps to ensure your food stays fresh for a long time by helping to maintain the food's natural moisture.
Water Dispenser
A compact refillable water dispenser situated within the refrigerator provides water without taking up excessive fridge space.
Layered Steel
Love stainless steel, hate the hassle? Layered steel not only looks great, it is also easy to clean, accept magnets, is fingerprint resistant, and has virtually the same look and feel as stainless steel.
Stylish easy open handle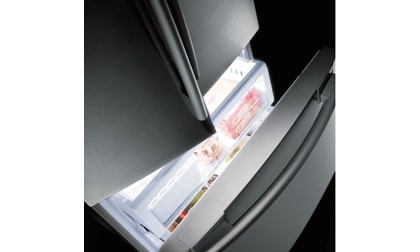 Freezer drawer opens smoothly with an easy opening mechanism.
Rated

1

out of

5
by
Not happy Dave
from
Terrible fridge, DO NOT RECOMMEND!!!
Have had this fridge now for 6 years and it continues to freeze over. Ice builds up in the back of the fridge and water constantly builds in the vegetable drawers. Just bought an energy tracker and it is drawing 10kwh a day! That is about $1000 a year! Avoid!!! We had the back plate replaced under warranty and the service guy stated that there is a fault with the design and they will continue to freeze over time and again. Sure enough, not long after replacing, it froze up. Will now have to look into finding a new fridge which I can't afford. Thanks Samsung!
Date published: 2018-10-07
Rated

1

out of

5
by
Claude
from
Doesnt work
4 years old and despite several warranty and out of warranty requests, the ice still builds up under vegetable drawers and water inside the drawers. So many others experience the same problem but Samsung refuse to accept the design is faulty. Even the repair guy says the element design is poor and hence why the evaporation tube freezes up and water falls into fridge.
Date published: 2018-10-01
Rated

1

out of

5
by
Nasser
from
Too many issues
We have had the fridge for 6 years and have had problem after problem. First our Ice maker stopped working a few months in. Samsung send out a technician and replaced a part. No issues after that. Then the inner flap on the left hand door has cracked off, so being out of warranty I had to poxy the flap back on, now the bottom hinge where the spring is has cracked off. Poor quality seeing as our parents fridges lasted decades. Disappointed in the longevity of the fridge/freezer.
Date published: 2019-01-04
Rated

1

out of

5
by
icedup
from
Design fault
There is a problem with the fridge icing up leading to water in the salad crisper. This problem should be fixed by samsung before they sell any more product. We now will avoid samsung products
Date published: 2019-05-21
Rated

1

out of

5
by
Gday
from
Looks good, works bad.
Another story of water puddles in the salad crisper. This is a 6 year old appliance, after 4 years the rear fan iced over and failed, then recently water collecting in salad crisper. Samsung helpdesk called. Not interested in covering repair as out of warranty. Samsung recommended local engineer called out to replace drainage part, a common problem he told us! Two weeks on and the problem still exists, despite being $229 worse off. Disappointed to find this very common design defect is not covered by Samsung. Customer confidence in brand has been compromised.
Date published: 2019-04-04
Rated

3

out of

5
by
Marley
from
Icing up
We have had this fridge for 6 yrs same problem as everyone else not long after we purchased had no luck with customer service I had our local refrigeration guy come out he fixed it with a CABLE TIE that was 5 yrs ago haven't had a problem since then. Yes there is something wrong with this fridge
Date published: 2019-03-26
Rated

1

out of

5
by
glorsy
from
dont buy
i have had this fridge for the last 5 years and there been nothing but problem just like everyone else the freezing at the back water in crisp draw etc have had a samsung tech look at it twice the first time he changed the thermostat cost me $350.00 2nd time he came out i was told just turn off fridge for 24 hours and should be fine. yeah for 1 month and now water build up in crisp draw im sorry there should be a recall on this product as so many bad reviews and many people have had same issues
Date published: 2019-03-04
Rated

1

out of

5
by
Anonymous
from
Poor Design
Bought 5 years ago and serviced 5 times, almost every year for the same fault which is icing around the sensor. Would think twice before buying even though it looks good from the outside.
Date published: 2019-01-29
User manual & Downloads
Live Chat
* Key feature may different from Key Spec