How do I prevent leakage from the water filter in my fridge?
Last modified :
May 03. 2019
Most Samsung fridges now come with a handy water dispenser. With that water dispenser though also comes a water filter to maintain great quality drinking water. If the water filter hasn't been installed properly or your fridge isn't on level ground, you may find that your water filter will leak. Below are some instructions on how to install your water filter.
Firstly, there are some tips to run through so that you only have to install your water filter once and not worry about any water leaking issues.
Only use Samsung or approved water filters.
Do not block the air vents.
- If the vents are blocked, especially with a plastic bag, the refrigertor can be overcooled. If a cooling period lasts too long, the water filter may break and cause water leakage.
When removing the water filter, ensure to pull the filter straight out while removing to prevent any damage.
1
Shut off the refrigerator water line at the point where the line attaches to the hose water source.
2
Depending on the model of your refrigerator, the water filter can be in one of three locations, behind the fridge, in between the fridge crisper drawers or on the top right hand side of the fridge.
●    If it is at the upper right side of your refrigerator, remove the upper glass shelf from the refrigerator so you can get to the filter easily.

●    If it is behind the vegetable bin, remove the vegetable bin.
●    If it is located behind the fridge then pull the fridge out and reach the back of the fridge.
3
Examine the water filter to see if the LOCK indicator mark on the filter is aligned with the indicator mark on the filter cover.
4
If the LOCK indicator mark on the filter is not aligned with the indicator mark on the filter cover, turn the filter clockwise until the marks are aligned.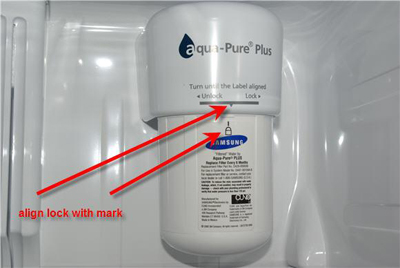 5
Turn on the water line and check for water leaks.
6
If there are no leaks, put the crisper back and move the fridge back to its original location.
Please note:
Once the water filter is replaced flush atleast two litres of water before drinking or using the water dispenser. 
If you require more information, please consult the user manual from our Manuals & Downloads page. Otherwise, please get in touch with our Samsung Care Australia experts on 1300 362 603 (Toll Free in Australia) or contact our Live Chat Australia team.
Did not find what you're looking for? We're here to help.
Online
Chat with us
Live Chat Support with a Samsung product expert.

We'll respond within 24 hours of your request.

Face-to-Face Support

In-Store Support
Create a booking to see one of our friendly Samsung staff members at one of our Samsung Retail Stores.
Contact Us