Can't send SMS on Samsung Phone
Last modified :
Jun 17. 2020
There are two possible scenarios:
1
Unable to send text messages to a specific contact, but can send messages to other contacts
If there is only one contact you're unable to send any text messages to, the problem very likely your network provider and not your device. Please contact your network operator for service status updates.
Also check:
The app version is running on the latest software and the phone software settings are up-to-date.
Do you have the contact's number saved as +614 or 04? Can you send to one but not the other?
Do you have the contact's name saved with any Emoji's? Can you send to contacts without Emojis in their name?
Can you try your SIM in another device? 
Do you have good network coverage? Do texts not send at certain times of the day, or when you're in certain areas?
If you have recently switched from an iOS device, check to see if you have deactivated iMessage. Check out How to deregister from iMessage for step-by-step instructions.
2
Unable to send text messages to any of the contacts
If you're unable to send any SMS (text) messages to any contacts, try checking your network operator's message centre number stored in your device's settings. It is either missing or incorrect.
Australian Telco Message Centre Numbers:
Telstra +61418706700
Optus +61411990001
Vodafone +61415011501
Please Note: This guide is designed for Australian variant devices, if you have an international device and require further assistance click here to reach out to your Samsung Subsidiary. Steps were created from Android OS Pie 9.0. Steps may slightly vary according to the Android OS your device is running. 
Check the Messages App
Check the Message Centre number
1
Tap on the Messages app.
2
Tap on the Three dots
3
Select Settings.
4
Tap on Text Messages.
5
Tap on Message Centre and enter the message centre number provided by your carrier. Tap on SET to confirm.
6
Enter the message centre number provided by your carrier. Tap on SET to confirm.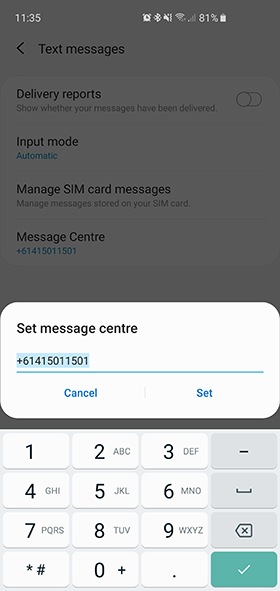 Clear the Messages app data
1
Slide down to your Quick Settings Panel and Tap on Settings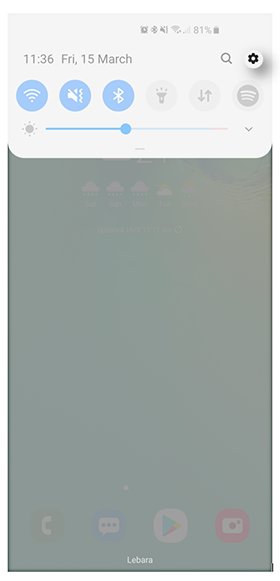 2
Tap on Apps
3
Scroll down the page and select Messages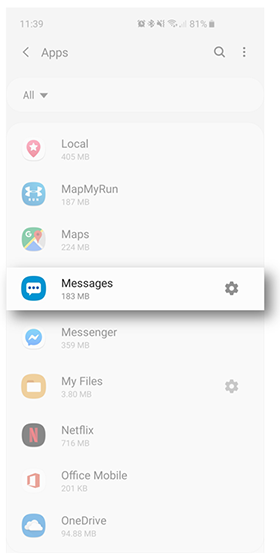 4
Tap on Storage
6
Tap on Clear Data > Delete
Please Note: this will delete all TXT messages and MMS so make sure you backup before this step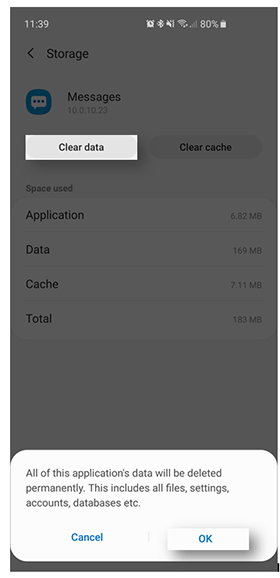 7
Restart your device and then try sending a text message again.
Test a different messaging application
It can be worth testing another messaging application to determine if there is potentially an issue with an update to the Messages app. 
Android Messages is the Google stock messaging application and is simple enough to install. 
1
Open the Google Play Store app, then tap in the white bar at the top to search
2
Search for 'Android Messages', Install and Open the App
On opening the app you'll be asked to Allow permissions and set Android Messages to Default - the app will not work if you select 'No' to any of these options.
Deleting the Android Messages app after testing will automatically revert Samsung Messages to default (or simply open Samsung Messages to be prompted to change it back).
3
If a second messaging application is unable to send SMS messages - we know it is more likely to be a network issue. If that is the case, it is recommended to reach out to your Network provider.
If you have tried the above troubleshooting steps and you are still unable to send out text messages contact our Australian Support Team on 1300 425 299 or Live Chat us for further support.
Did not find what you're looking for? We're here to help.
Call
1300 362 603
8am-5pm / Monday to Friday
For general enquires and technical support relating to all Samsung products : CLICK HERE
For all Printer related inquiries, please
click here
or visit
https://www.support.hp.com
Please
click here
to view the latest news regarding the Samsung sale of Printer business to HP.
Contact Us