Set up your Samsung Pay Transit card
Last modified :
May 25. 2020
Tired of carrying so many cards around when you're out and about? Or stressing where you last left your Opal card? Now you can forget all about locating your transit card to tap on and off because you can do it all from your your Samsung smartphone. You can set up your default transport card on Samsung Pay and use your Samsung device to pay for travel for compatible Transport for NSW services and fares.
Once you're set up, simply place the back of your phone against the card reader, with the rear camera positioned in the middle of the reader, to tap on or off. No need to wake or unlock your phone.
Please Note: Compatible Transport for NSW services currently include Sydney Ferries, Sydney Trains and the light rail service. Contactless payments are not yet available for Buses, private ferry or NSW TrainLink Regional rail or coach services. Contactless fares are the same price as a standard (peak) Adult Opal fare for the same trip. Click the following link to learn more about Contactless Payments.
Setup Transit cards
1
Launch the

Samsung Pay app
2
Under Transport Card tap on START
3
Tap on Set up transport card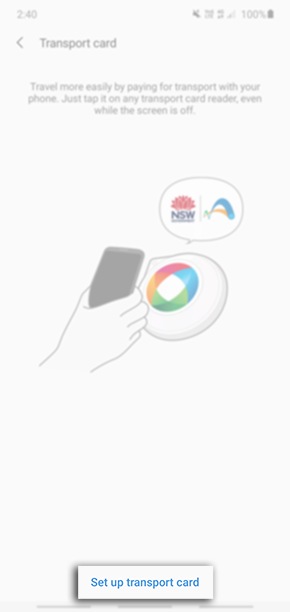 4
Position your card inside the frame or tap on Enter card manually to manually enter in the card details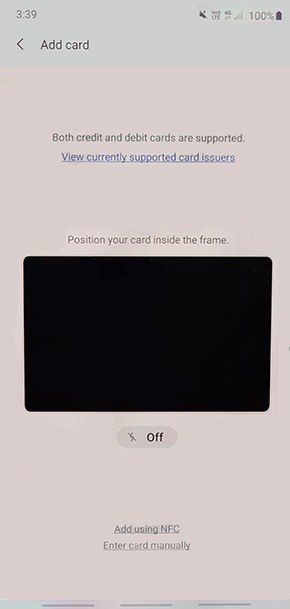 5
Now its time to verify yout card, tap on SMS to generate a code to be sent to your mobile device
6
Enter in the verification code the tap on Submit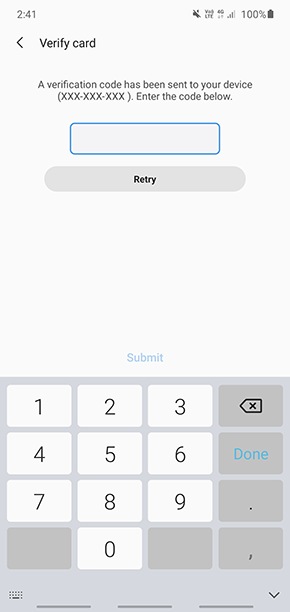 7
Once setup tap on Done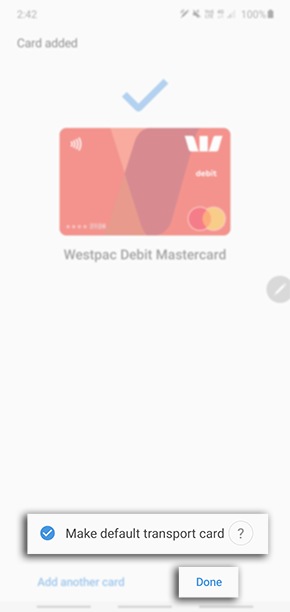 Disabling your Transport Card
1
If in the future you no longer want to use your Transport Card you can easily disable the card. Simply tap on your Transport Card located in your Samsung Pay homepage.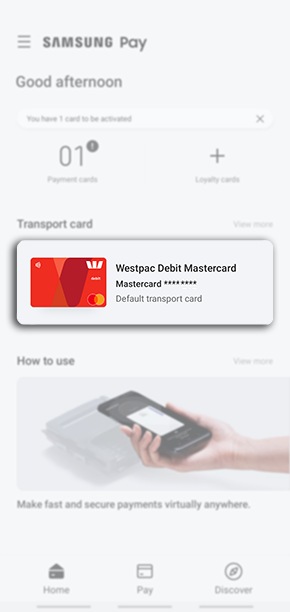 2
Select the 3 Dots located top right of the page
3
Tap on Set up transport card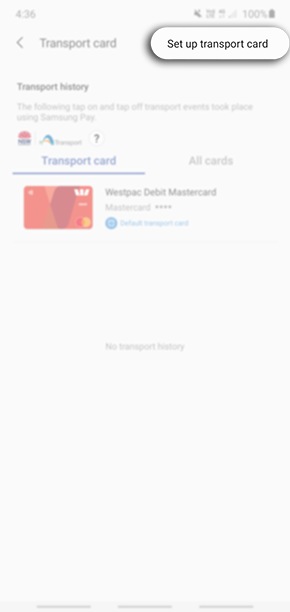 4
Toggle off Use transport card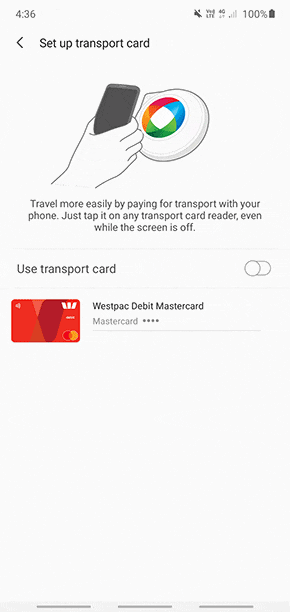 DOES SAMSUNG PAY ACCESS OR COLLECT INFORMATION ABOUT MY LOCATION?
In order to verify your identity, Samsung Pay may access location information obtained from your device when you register your payment card, but only if 'Location' is turned on in your device settings. Samsung Pay will not be able to access your location information if you have turned 'Location' off in your device settings.
Did not find what you're looking for? We're here to help.
Call
1300 362 603
8am-8pm / Monday to Friday
For general enquires and technical support relating to all Samsung products : CLICK HERE
For all Printer related inquiries, please
click here
or visit
https://www.support.hp.com
Please
click here
to view the latest news regarding the Samsung sale of Printer business to HP.
Contact Us