Samsung AirDresser - Items are wet, wrinkled or not deodorized after cycle (DF60R8200DG)
Last Update date :
Oct 29. 2020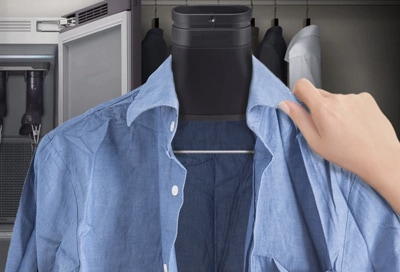 Your AirDresser is a convenient and easy to use tool for freshening your clothes. Here's the information you need to know.

The provided information refers to AirDressers sold in Canada. The available settings and options may differ for appliances sold in other countries.
Items are wet after a cycle
Make sure the lint filter is clean and properly inserted.
Make sure the door gasket is not damaged and that items are not caught on the door.
If the door gasket is damaged, unplug the power cord and visit our Support Centre to request service.
Wrinkles are not removed
The AirDresser may not remove wrinkles from items that have been stored for a long time.
These items may need to be ironed. For clothes that shouldn't be ironed, they may need to be dry cleaned or professionally steamed.
Items are not deodorized
Items with strong odors, items that have been stored for a long time, and items contaminated by oil are all items that should not go in your AirDresser. Wash or dry clean these items instead.
Large, bulky items such as down-filled jackets may not be deodorized well. Put large items by themselves and run an additional cycle if necessary.
Do not run items with strong odor in the same cycle as other items. Separate items by odor strength.
Make sure the lint filter and both tanks are clean.
Please answer all questions.