Restart or reset your Galaxy Buds
Last Update date :
Mar 20. 2021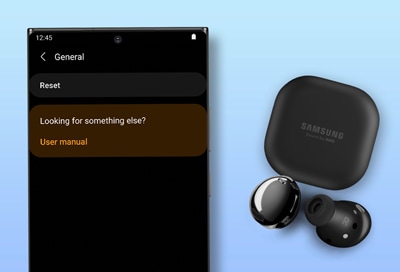 If you have upgraded to a new phone or want to switch the device your Galaxy Buds are connected to, you may need to reset your earbuds back to their default settings. This can also help if you are experiencing minor problems like the Galaxy Buds being unresponsive.
Note: Information provided applies to devices sold in Canada. Available screens and settings may vary for earbuds sold in other countries.
Manually restart your Galaxy Buds
Feel the need to simply restart your Galaxy Buds, instead of completely resetting them? To do this, just insert the earbuds into the charging case, and then close the lid. Wait 7 seconds or more, and then remove the Galaxy Buds from the case.
Reset your Galaxy Buds
When you perform a reset on your Galaxy Buds, all of the settings will return to their defaults. You can only reset your earbuds through the Galaxy Wearable app, and both earbuds must be connected. When paired to an iPhone, the Galaxy Buds+ and Galaxy Buds Live can be reset with the Samsung Galaxy Buds app on an iPhone 7 or later with iOS 10 or higher.
First, navigate to and open the Galaxy Wearable app on your Galaxy phone.
For the Galaxy Buds+, Galaxy Buds Live, and Galaxy Buds Pro, tap General. Tap Reset, and then tap Reset to confirm.
For the Galaxy Buds, tap About earbuds. Tap Reset earbuds, and then tap Reset to confirm.
Please answer all questions.
The coding for Contact US > Call > View more function. And this text is only displayed on the editor page, please do not delet this component from Support Home. Thank you