Pair your Galaxy Buds to your Samsung smartwatch
Last Update date :
Aug 05. 2021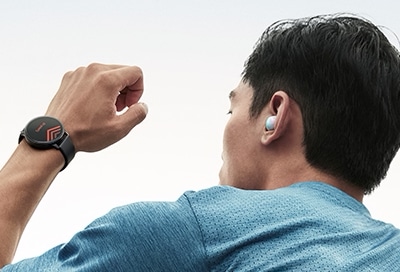 Sometimes it's hard to keep the music going at the office without disturbing anyone around you. Instead, you should connect your smartwatch to a pair of Bluetooth earbuds, so you can enjoy the soundtrack of your life. Additionally, when your watch is connected to your phone or has mobile network service, you can manage calls anywhere you go.
Note: Information provided applies to devices sold in Canada. Available screens and settings may vary for earbuds or smartwatches sold in other countries.
Pair Bluetooth earbuds
On your watch, navigate to Settings. Then, swipe to and tap Connections, and tap Bluetooth. Verify the switch for "Bluetooth" is turned on, and then make sure the Galaxy Buds, Galaxy Buds+, Galaxy Buds Live, or Galaxy Buds Pro are in pairing mode. Tap BT audio or BT headset, and then select the desired Bluetooth earbuds.
Note: To put your earbuds in pairing mode, place them in the charging case. Next, close the lid for 5-7 seconds, and then open the case back up.
Tap Settings icon next to the Bluetooth earbuds to turn on or off the switch for "Call audio and Media audio", or you can tap Unpair to unpair the earbuds.
Note: Audio output for call conversation to Bluetooth earbuds is only available with LTE watch models. If the switch for Call audio and Media audio is turned off, you will not hear any output to the Bluetooth earbuds and they may disconnect from the watch.