Galaxy Note10 - Manage recent apps (SM-N970W, SM-N975W & SM-N976W)
Last Update date :
Oct 03. 2020
Your phone was built for multitasking, so naturally, it has the ability to alternate between multiple apps. So, if you're interrupted by a call or message, you can get right back to what you were doing. Just navigate to Recents to see all your opened and recent apps - they're all in one place for your convenience.
Information provided applies to devices sold in Canada. Available screens and settings may vary for smartphones sold in other countries.
What you can do in recent apps
Now you can see your recent apps with a single touch. From the Home screen, touch Recents. It's to the left of the Home button. All your active or opened apps will be listed.

To open an app, simply touch it.

To view more apps, swipe left or right.

To close an app, swipe up.
To close all apps, touch Close all.
Additional features
One UI is bringing a new recent apps overview screen but also new features. From the Home screen, touch Recents. On top of each app's window, a specific icon is displayed. Touch the icon to display additional features associated with the app.

Available options will vary depending on the app used. From this menu, you might be able to open the app in split screen view (this mode lets you run two apps at the same time in a split screen view) or in a pop-up view (to run multiple apps at the same time on the same screen).

Turn on suggested apps
Your phone is so smart, it can suggest apps for you based on your usage. They'll appear at the bottom of the recent apps overview screen.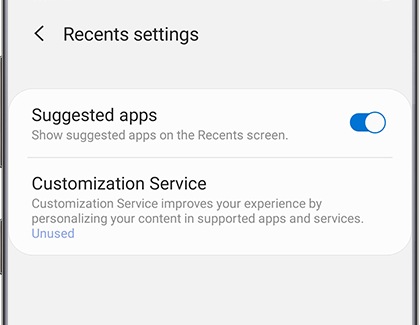 From the Home screen, touch Recents. Touch More Options (the three vertical dots, at the top right corner) and then touch Settings. Touch the slider next to "Suggested apps" to turn the feature on or off.

Please answer all questions.
The coding for Contact US > Call > View more function. And this text is only displayed on the editor page, please do not delet this component from Support Home. Thank you