Clear the app cache and data on your Galaxy phone
Last Update date :
Feb 05. 2021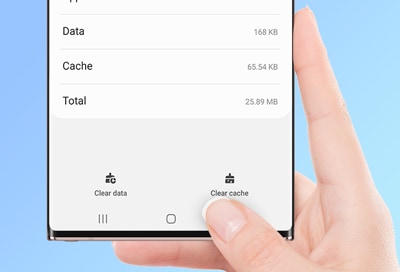 Having trouble with unresponsive apps? It may be time to give them a good spring cleaning. Don't worry, you don't have to uninstall the app or reset your phone. Instead, clear the app's cache or data.
Information provided applies to devices sold in Canada. Available screens and settings may vary for smartphones sold in other countries.
Clear an app's cache
Clearing the app cache is kind of like a cleanse for your apps. It will get rid of residual files that could be slowing down the app.

From Settings, swipe to and tap Apps. Select the app you want to clear. Tap Storage, and then tap Clear cache.

Clear an app's data
Important: Clearing the data will reset the app to factory default settings. Any personal settings saved on the app will be removed.
Need a total do-over? Try emptying out all that app's data. But please be aware this will completely reset the app. Make sure you have any accounts or usernames written down so you can log back in after the app resets.
From Settings, swipe to and tap Apps. Select the app you want to clear. Tap Storage, tap Clear data, and then tap OK. This will completely wipe the app and reset it to the original settings.

Reset the device
Important: You can clear app cache and data of all apps at once by using a procedure called factory reset. You must back up your personal data prior to the factory reset because otherwise your personal information may be lost. If you have encrypted the microSD card, you must decrypt it before resetting the phone. Otherwise, your phone will not be able to read the data on the card. From Settings, search for and select Decrypt SD card, and then follow the on-screen prompts.
From Settings, search for and select Factory data reset. Next, tap Factory data reset again, and then review the information. When you are ready, swipe to and tap Reset.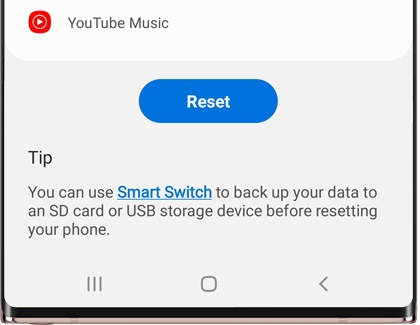 If you have a security lock set on the phone, you will be asked to enter the credentials. Finally, to delete information and downloaded apps, tap Delete all.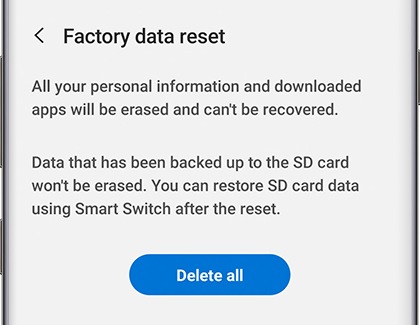 Note: Your phone will reset; when it turns back on, it will start from the initial setup screen.