Manage apps on your Galaxy phone
Last Update date :
Dec 17. 2020
Your Galaxy phone is an app machine! You can browse and download all kinds of apps to fit your needs. You can also uninstall or disable apps you really don't need or use. Once you learn how to manage your apps, you'll be able to maximize your device's potential.
Information provided applies to devices sold in Canada. Available screens and settings may vary for smartphones sold in other countries.
Download apps
The Google Play Store can be found on the Apps screen or inside the Google folder. On the other hand, the Galaxy Store can be found in the Samsung folder or on the Apps screen.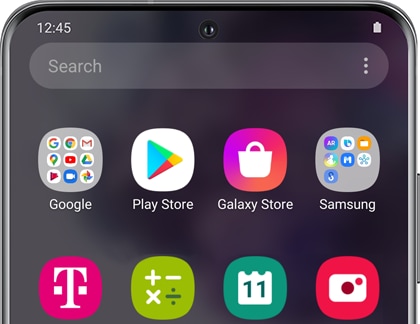 Pick an app store, and browse through the available apps by using the sort and search options. When you find the app you want to download, tap it, and then tap Install.
Note: Only apps that are compatible with your device are available for download.
Uninstall apps
If you don't need an app anymore, just get rid of it.
From the Home screen, swipe up or down to access your Apps screen. Touch and hold the app you want to uninstall, and then tap Uninstall.
Note: Some preloaded apps cannot be uninstalled.
Disable preloaded apps
Do you have preloaded apps that you don't really use? You can't completely uninstall some preloaded apps, but you can disable them.
From the Home screen, swipe up or down to access your Apps screen. Touch and hold the app you want to disable, and then tap Disable.
Note: Not all preinstalled apps can be disabled.
Reinstall paid apps and themes
If you've already purchased an app or a theme, you don't have to purchase it again. Simply reinstall it using the same account you purchased it with.
If you made a purchase using the Play Store, open the Play Store, and tap the Menu icon (the three horizontal lines). Tap My apps & games, and then tap Library. Find the app you want, and then tap Install.
If you originally installed the app using the Galaxy Store, open the Galaxy Store, and then tap the Menu icon (the three horizontal lines) in the upper right corner. Tap My apps; from the Apps tab, find the missing app and tap the Download icon. If you want to reinstall a purchased theme, tap the Themes tab at the top, and then tap the Download icon.
Note: Galaxy Themes is only available on Galaxy phones.
Manage app permissions
To use certain features, an app may ask you permission to access some of your information. For example, Email may ask for permission to see your Contacts, so it can import your friends' contact info. If you've allowed a permission by accident, you can always change the settings.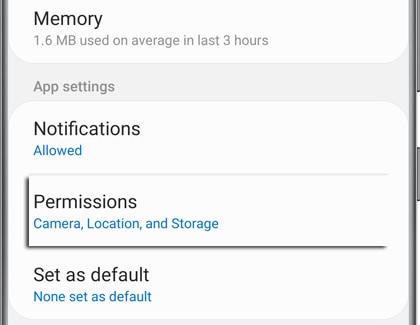 From Settings, tap Apps. Tap the desired app, and then swipe to and tap Permissions. Tap the permission you wish to change, and then select Allow or Deny.
Change the default apps
Some options are always performed by the same app. For example, if you open a link, the Internet app will automatically open if it's set as the default browser. If you'd like, you can change certain default apps.
Navigate to and open Settings on your phone. Tap Apps, and then tap the More options icon (the three vertical dots). Tap Default apps, choose the category you want to adjust (i.e. Browser app), and then select the app you want to make the default.
Move apps to a microSD card
If all of your apps are taking up a lot of room on your phone, but you don't want to delete any of them, you can try moving apps to a microSD card.
You'll still be able to use the app, but it won't be taking up any more of your precious storage space.
Please click the submit button below to share your feedback with us. Thank you for your participation.
Please answer all questions.