Share and transfer files with your Galaxy phone and Windows 10 PC
Last Update date :
Apr 27. 2021
Instead of sifting through your email or cloud storage app, use Link to Windows to quickly send files from your Galaxy phone to your Windows 10 PC. This feature will automatically sync your recent images from your phone and display them on your computer for easy access. There is also a way to drag and drop files between your phone and Windows 10 PC without using an app.
Note: Information provided applies to devices sold in Canada. Available screens and settings may vary for smartphones sold in other countries. The phone screen function may not work on devices managed by your workplace.
Share your files through Link to Windows
After you have set up the Link to Windows feature, you can sync your most recent photos or videos in your phone's Gallery app to your Windows 10 PC and then save them. The Your Phone app will display up to 2,000 recent photos and videos.
Open the Your Phone app, and select Photos. If they are not showing up, select Refresh at the top and wait a few seconds.
To do more with a particular photo, select it and then choose from the options at the top. Select Open to view the photo and make edits, Copy to create a duplicate, Save as to save it to your PC, or Share to send it to another device.
As you take more photos on your phone, the Your Phone app will remove older photo previews from your PC. It never changes or deletes any photos on the phone itself.
Share files with a USB cable
If you prefer not to use an app, you can transfer files the old-fashioned way: using a USB cable. You can use the same cable that came with your Galaxy phone.
Unlock your phone, and then connect it to a computer using the USB cable. On the phone, a notifcation about the USB connection may appear; if needed, tap it and select the option for MTP or Transferring files.
Next, open the computer's File Explorer program. Click on the name of your phone in the side menu. From here, you can go into your phone's files and drag and drop them into your computer. You can also move files from the computer into the phone's storage.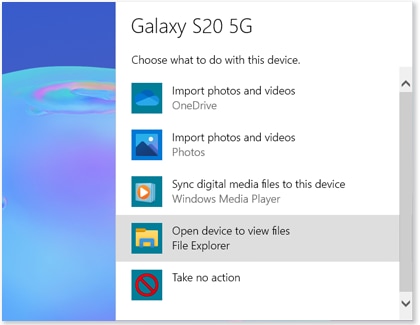 You can drag and drop up to 100 files at a time, of any type. However, moving entire folders is not supported, and no single file can be larger than 512MB. The size of content will be adjusted to 1MB if "metered data" is used. For text files, the size will be limited to 128KB or less, and images will be resized to 1MB or less.
Please click the submit button below to share your feedback with us. Thank you for your participation.
Please answer all questions.