Galaxy Tab S4 - Note Taking to the Next Level (SM-T830)
Last Update date :
Oct 07. 2020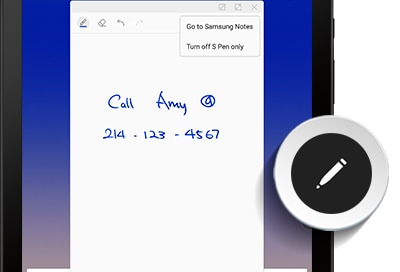 You like taking hand-written notes for just about everything. If only you could take notes directly on your tablet. With the S Pen, you can do exactly that, whether you're writing on a note or a screenshot. And to make things even better, you can get creative with Live message and other fun features. Now you can be digital and old school at the same time.
Screens and settings available may vary depending on your Canadian wireless service provider and your software version.
Create Notes in Samsung Notes
When you're ready to jot something down, just have your S Pen ready in hand and follow these simple steps.

To create a quick note, open Air Command by holding the S Pen close to the screen and pressing the button on your S Pen, and then touch Create note. It'll open a Samsung Note window that you can use to create a note. However, this window only lets you take notes with S Pen. If you want to use all the features available for Samsung Notes, touch More Options, and then touch Go to Samsung Notes. Now, you can select an input method from the toolbar. You can enter the text using the keyboard, or use S Pen like a pen or paint brush. You can even insert an image or a voice recording. When your drawing is done, touch SAVE.

You can also view your saved notes in Samsung Notes by touching "View all notes" in the Air Command Menu.

Smart Select
Screenshots are fun and all, but sometimes you wish you could capture only one part of the screen. With Smart Select and your S Pen, you can select anywhere on the screen, even a teeny tiny section. You can capture words or a single image.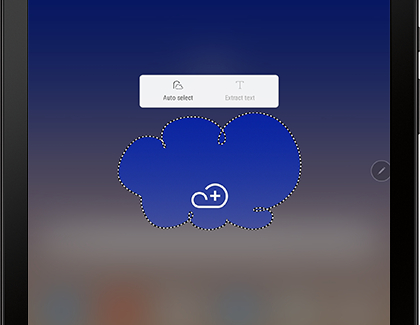 Open Air Command by pressing the button on your S Pen, and then touch Smart select. Select the type of capture method to use. You can choose from Rectangle, Lasso, Oval, or Gif. Use your S Pen to take a screenshot of a portion of the screen.


Once the image captured, you can choose from the following options:

• Auto select: Smart Select will select the main subject of the photo.

• Extract Text: Words in the screenshot will be extracted and will appear at the bottom of the screen. Touch COPY to copy it your clipboard or touch SHARE to share it.

• Pin to Screen: The screenshot will remain in the corner of the screen, even when you go into other apps.

• Bixby Vision: Open the screenshot in Bixby Vison and use any of Bixby's features, such as Shopping.

• Draw: Draw directly on the screenshot or edit it. You can save the screenshot with your edits and it will be saved in your Gallery.

• Share: Share the screenshot like any image or file. You can send it through email, text, and more.
Screen Write
You're forwarding an email to a colleague, but the email is massive. Instead of having them read through the entire thing, take a screenshot of the email and circle or highlight the important parts using your S Pen.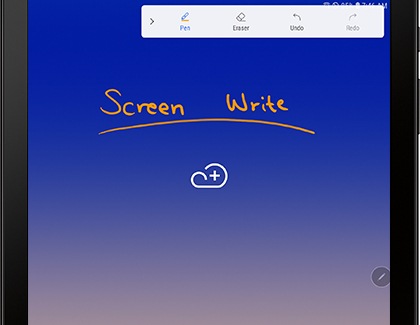 Open Air Command by pressing the button on your S Pen and then touch Screen write. Your tablet will take a screenshot of page you are currently on. You can write or draw directly on the screenshot or crop it. You can also share the screenshot with your writing to friends and save it in Gallery.

Live Message
You've sent so many texts, it's starting to get boring. Liven things up using Live message, which will create animated messages that you can share with friends.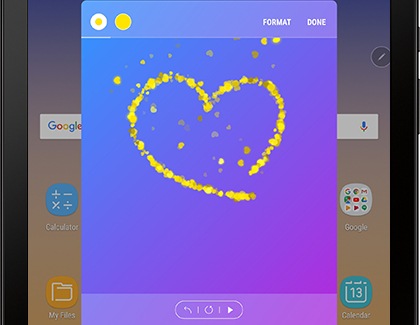 Open the Air Command Menu using your S Pen and then touch Live message. A purple template will appear on the bottom of the screen. Draw or write on the template. You can change the font color, style, and the width of the line. When you are done, touch DONE. Live message will replay the message in real time, from your first pen stroke to the last. Touch Share to send the animation to friends and family through text or other sharing options.

Translate
If you come across a webpage in a different language, going back and forth between a translating app or website can be annoying and frustrating. With S Pen and its Translate feature, you can translate words by simply highlighting them with the pen.

Open the Air Command Menu using your S Pen and then touch Translate. Touch OK and then choose your desired Source Language. This is the foreign language on the page you want to translate. The Target Language (your language) will be your phone's default language, but you can change it if desired. Touch the Translate bar at the top of screen and then touch the default language on the right side to change the Target Language. Touch the arrows in the middle of the Translate bar to switch your Source Language and Target language.

Please answer all questions.