Learn more about using the Apple TV app on your Samsung TV
Last Update date :
Dec 30. 2021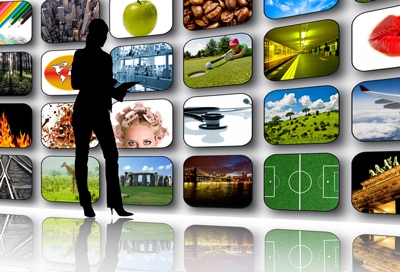 A whole new world of entertainment just opened up, because the Apple TV app is now available on select 2018 to 2020 Samsung TVs. Access your existing library of shows and movies, and find new programs to stream, buy, or rent. Find out how to sign into the app, how to stream content, which Samsung TVs are compatible, and learn about Apple TV + in our guide.
Note: The provided information refers to TVs sold in Canada. The available settings and options may differ for devices sold in other countries.
Sign into the Apple TV app
Note: Before you can sign into the Apple TV application, you must have an Apple Music or iTunes account. If you have never used Apple Music or iTunes, you need to set up an account in the Apple Music app on your phone or iTunes on your PC.

1
On your TV, navigate to and select the Apple TV app.
2
Select Settings > Accounts > Sign In > Sign In On Mobile Device.
3
Two sign-in options appear on your TV. Using your phone, either navigate to activate.apple.com and enter the code that is displayed on your TV, or scan the QR code that appears.
4
Follow the on-screen instructions to complete the sign in process.
Stream movies and TV from Apple TV
1
Select a category to browse available content, select Library to view content you already own, or select Search if you know what you are looking for.
2
Scroll through the available titles and select one that you would like, then select Buy or Rent.
Note: You may need to enter your Apple ID password to complete your purchase.

3
Select Play to start playing the video.
Apple TV compatible Samsung TVs
2020 QLED 8K series: Q950TS, Q900TS, and Q800T
2020 QLED 4K series: Q90T, Q80T, Q70T, and Q60T
2020 Crystal UHD series: RU9000, TU8500, TU8000, and TU7000
2020 Lifestyle series: The Frame (LS03T), The Sero (LS05T), The Serif ( LS01T), and The Terrace (LST7T)
2019 QLED 8K Q900R and 2019 Serif TV
2019 QLED 4K Q90R, Q80R, Q70R, Q7DR, Q60R, and Q6DR
2019 & 2018 Frame TV LS03R/LS03N
2019 4K UHD TV RU8000, RU800D, RU740D, RU7300, RU730D, RU7100, and RU710D
2018 QLED 4K Q9FN, Q8FN, Q7CN, Q7FN, Q75FN, Q6FN, and Q65FN
2018 4K UHD TV NU8500, NU8000, NU740D, NU7300, NU7200, NU7100, NU710D, NU6950, NU6900, NU6900B, NU6080, and NU6070
2018 Smart Full HDTV N5300
Apple TV +
Apple TV + is an exciting new streaming service that is coming this fall from Apple. It will be available exclusively on the Apple TV app and will offer original TV shows and movies across every genre. For more details, check out Apple.com.
Please click the submit button below to share your feedback with us. Thank you for your participation.
Please answer all questions.