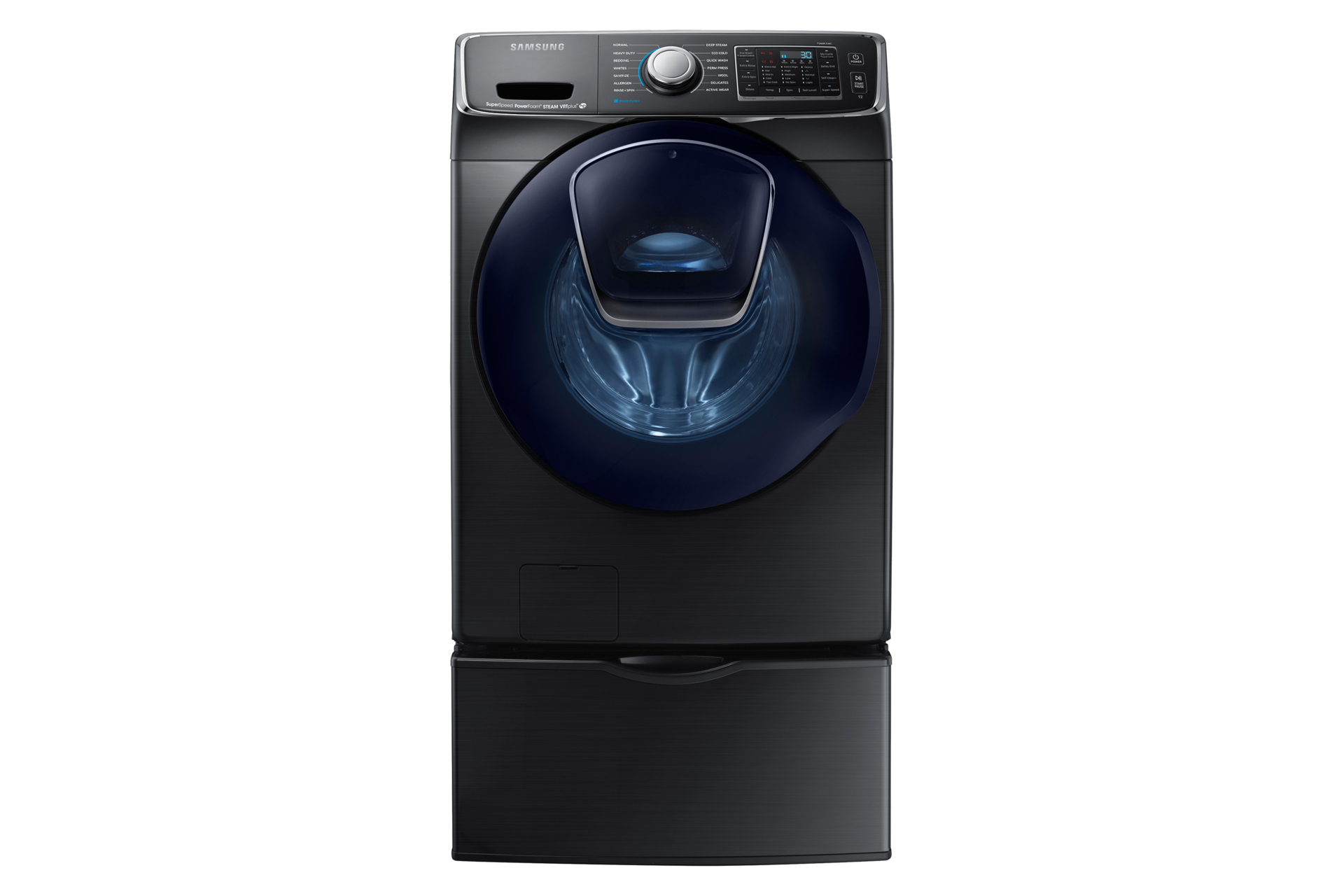 WF50K7500AV Front-Load Washer with AddWash, 5.8 cu.ft
WF50K7500AV/A2
WF50K7500AV Front-Load Washer with AddWash, 5.8 cu.ft
is rated out of
5
by
8
.
AddWash™
Super Speed
27" x 38.74" x 34" Inches
Net Dimension (WxHxD)
Forgot something? No problem!
Forgot a shirt? Add Wash lets you simply and quickly add forgotten clothes after your cycle has already started. You can also easily pop in hand-washed clothes that you just want to rinse or spin dry.*
* For safety, Add door cannot be opened when the water temperature is above 50 °C. Add door cannot be opened during Self Clean+.
Fast and efficient washing
The SuperSpeed feature significantly reduces laundry time.* SpeedSpray shoots jets of water to rinse quickly and clean faster. VRT plus™ technology ensures that the drum is balanced, so spinning times are reduced.
* Tested on WF50K7500AW. Compared with Samsung conventional WF511
Wash more in fewer loads to save time
A large 5.8 cu. ft. capacity means you can quickly wash piles of laundry in a single load, saving you time and effort, without the burden of frequent washes.
* Tested on WF50K7500AW. Compared with Samsung conventional WF405.
Quickly and thoroughly cleans clothes
PowerFoam™ technology gets laundry thoroughly clean – while going easy on delicate items. It fills every inch of the drum with a thick foam that penetrates fabrics more quickly and deeply.*
* Tested with 15 °C Bubble vs normal detergent water based on Springboard, penetration test. ** Dramatized image.
ENERGY STAR® certified energy efficiency
ENERGY STAR® certified, so you can save money by conserving energy. It's been independently evaluated against strict specifications and is proven to save energy without sacrificing performance or functionality.
Keep your washer fresh
SelfClean+ technology conveniently keeps your drum and gasket clean without using cleansing agents.
Peaceful washing anytime, anywhere
Innovative VRT Plus™ technology reduces noise and vibration during washes.*
* Tested on WF50K7500AW model. Compared with Samsung conventional WF405 based on internal test.
* Tested on WF50K7500AW model. Compared with Samsung conventional WF405 based on internal test.
Easy troubleshooting
Smart Care error-monitoring enables easy troubleshooting using a smartphone App*.
* Available on Android and iOS devices.
* Available on Android and iOS devices.
Fingerprint resistant finish
Fingerprint resistant
Helps reduce smudges for an everyday great appearance.
27" x 38.74" x 34" Inches

Net Dimension (WxHxD)

108 kg

Net Weight
Rated

1

out of

5
by
sedlo6318
from
Tub bearings worn out less than 2 years old
Purchased this washing machine in Dec. 2016 and the tub bearings have failed in it already making a horrible sound when the washer is spinning. Our last front load washer from another brand was still running after 10 years with no issues, I wish we didn't sell it with our last home. After reading several reviews and comments online about Samsung appliance products I see that I'm not alone with this problem. Very poor quality don't buy.
Date published: 2018-11-19
Rated

2

out of

5
by
Syedd
from
Lots of Noise and vibration
This was the "best" washer or so quoted by the salesman. I had it installed in my house. The Dryer works fine but the washer vibrates a lot and makes a lot of noise in the Spin/Dry cycle. Not sure if mine is the only one affected but this is currently a problem.
Date published: 2016-11-23
Rated

2

out of

5
by
Almo77
from
Design flaw
I bought this washer 11 months ago. Last month it started to produce "oil" looking stains on my clothing and became really rough on delicate clothing. Since it was still under warranty a technician came out to advise nothing was wrong. Suggested the oil was coming from my cooking and advised washers don't cause the type of stains. Really? Then why does Samsung have troubleshooting for the issue? Decided to pay out of pocket and hire my own technician because the moment you pay everything is wrong. Sure enough my entire drum needed to be replaced. I was advised my unit wasn't built properly and the bearing was going which caused the oil looking stains. Had that repaired. Washer was working great. Even noticed more water coming in. Once completed noticed my add wash door hindge has started to completely disintegrate. When running the tub clean water pushed up and managed to somehow get into the add wash door. Was advised by the tech the seal was not installed properly and my door was about to fall off. I thought about getting the same washer, but the same issue is going to happen with the add wash door. Something is wrong with that design. Now looking for a new washer.
Date published: 2017-10-01
Rated

1

out of

5
by
Klaudia G
from
Stay away
purchased the machine 3months later the problem started.3 repairs later still doesn't work! I purchased it 6 months ago and wasn't able to use it for 9weeks in general.Takes them forever to send someone.The machine doesn't end the wash cycle and will run all day unless you manually stop it. Samsung is the worst customer service I have ever seen .
Date published: 2018-07-15
Rated

1

out of

5
by
Tony C
from
Horrible, do NOT BUY. BEARING GOES BAD!!
I bought this a few years ago and the bearing is SHOT. Your clothing is now totally wet and will not spin. Error code is UB. IT IS NOT unbalanced, and I re calibrated many times!! The Bearing is out and they won't fix!!!
Date published: 2019-06-20
Rated

4

out of

5
by
clausm
from
washer is fine but accompany dryer needs to be bigger
Washer works very well, in Canada it is rated 5.8 CF (US 5.0 CF) and the dryer that goes with it is 7.5 CF. When I wash sheets etc. in the washer (which has ample room for them) and then transfer it over to the dryer there isn't enough room to dry properly. So bear that in mind when loading this washer up, what works good in one end doesn't always work as well at the other end.
Date published: 2016-10-13
Rated

5

out of

5
by
April
from
Worth every penny
I have all Samsung appliances in my home and I love each and everyone one of them. The one door double over stove is awesome, the dishwasher is super quiet and cleans my dishes and even dries them perfect, fridge is very roomy with the chil drawer that I absolutely love, the washer/steam drawer is so big and helps me save so much time on doing laundry is unreal I just love it and it's by far my favourite. After almost four years of owning my appliances I still love them the same as the day I moved in.
Date published: 2016-08-19
Rated

5

out of

5
by
Maria
from
excellent !
buy both the washing machine and the dryer. it's great! love it specially the dryer timer features..
Date published: 2016-06-27
* Key feature may different from Key Spec