Display Settings for Full Screen Experience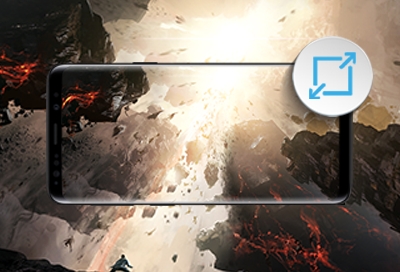 You've got big plans for your phone, but will it be able to keep up? The answer is yes - your Galaxy Note9, Note8, S9/S9+, and S8/S8+ can use full screen apps or other screen features to adapt to your everyday activities, whether you're playing a game at home or reading at the pool.
Available screens and settings may vary by wireless service provider and software version.
Screen Resolution
The new blog you're reading is spellbinding, but looking at the screen is making your eyes strain. Change the screen resolution and give your eyes a rest. Navigate to Settings, and then search for and select Screen resolution. To change the screen resolution, drag the slider to your desired resolution, and then touch APPLY.

Note: All active apps will be closed when you change the resolution.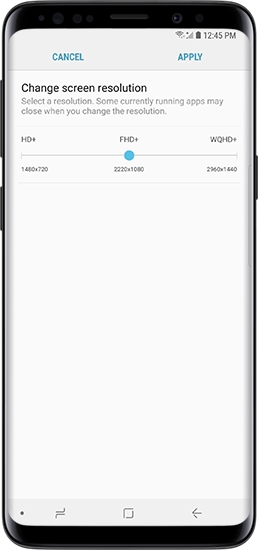 Full Screen Apps
That rhythm game would be much easier if your thumbs had more space to tap the icons. Don't get frustrated, check to see if that app can be used in full screen. When watching videos, you can set the video app or browser to full screen.

Navigate to Settings, and then search for and select Full screen apps. To enable full screen aspect ratio, swipe to and touch the slider next to your desired apps. 

Note: Grayed out apps are already optimized. Some app developers may not have optimized apps for full screen mode.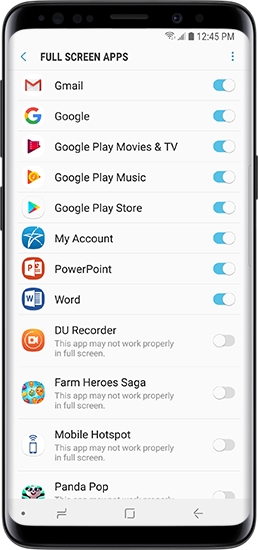 Screen Mode
Does that movie look a little too dark? You can adjust brightness and clarity by using Screen Mode settings. Navigate to Settings, and then search for and select Screen mode. Touch the desired screen mode:
Note: Adaptive display automatically optimizes the display to match the image being displayed and other criteria, such as the current battery level.

Adaptive display: Optimizes the color range, saturation, and sharpness of your display. You can also adjust the display color balance by color value and adjust the colors at the edges of your screen.


AMOLED cinema: Suitable for watching videos.


AMOLED photo: Suitable for viewing images.


Basic: Suitable for general use.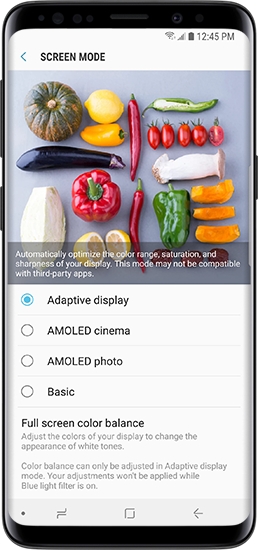 Screen Brightness Control
It's so sunny out, you thought your phone unexpectedly died. But your screen's not blank; it's just not bright enough. Just adjust the brightness. Navigate to Settings, and then touch Display. Adjust the slider for your desired brightness. To disable Auto brightness, touch the slider.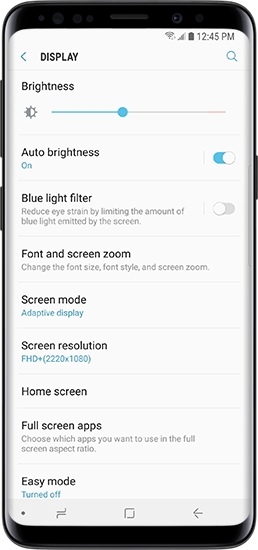 Other answers that might help
How would you like to contact us?
1-800-SAMSUNG Mon – Sun: 8AM – 12AM (EST)
mobile|phones|galaxy-s|s8