Samsung leads the
future of AI and loT at
IFA 2018
August 31 - September 5, 2018, City Cube, Berlin
Samsung leads the industry in R&D, 5G and AI in order to harness the power of innovation and empower people to create a better future with the experiences they desire.

Discover advanced connected living with Samsung's latest breakthrough products at the Samsung Town exhibition space at IFA. Experience vivid 8K content with the new QLED 8K TV, check out the newly launched Galaxy Note9 or explore smart home appliances like QuickDrive™ with integrated AI and IoT technologies that simplify your life.
Open Your Mind to Possibility
Thursday, August 30, 2018,
City Cube, Berlin
HS Kim, President and CEO of Samsung Electronics
Our vision of a world of 1 billion connected, intelligent Samsung devices continues to materialize, but has also evolved along with advances in AI and IoT, and their ever-growing integration into the mainstream.

Samsung leads the charge into the future of AI and IoT with our vast efforts. We invested $14bn in R&D last year; we have committed a further multi-billion dollar investment over the next three years in next-generation technologies including AI and IoT; and launched a new research division on key AI technologies, enlisting many of the world's leading experts in AI. In order to further enable our advancements in this field, we have also led the global initiative to establish industry standards for 5G.

We push the boundaries of invention and create breakthrough products that will enable people to improve their lives in ways beyond their imagination and Do What They Can't.
Samsung Events @ IFA 2018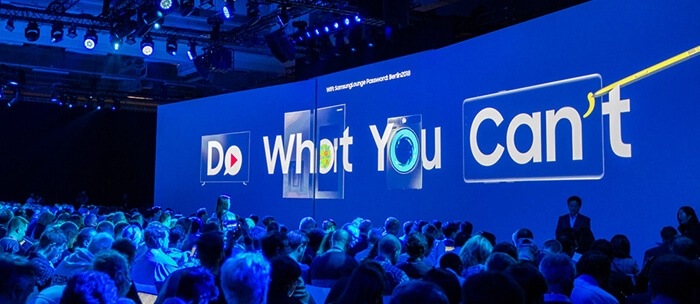 - Samsung's vision & latest new product introduction
- Aug. 30, 11:00 - 12:00, City Cube Berlin, Level 1
Club des Chef Cooking Show
- Smart Life Recipe : How to enrich your daily life with Samsung Club des Chefs & connected home
- Aug. 31, 14:00 - 14:30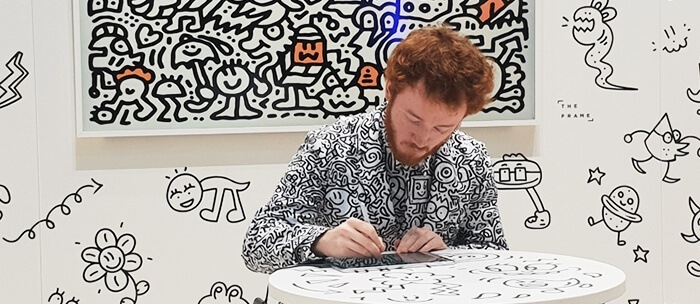 - Mr.Doodle Drawing Show with Galaxy Note9
- Aug. 31, 10:30 - 11:30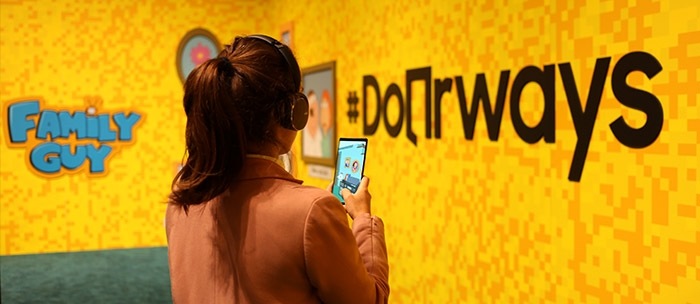 - AR experience of Samsung's connected living at the "Family Guy" house
- Aug. 31 - Sep. 5, 10:00 - 18:00
Real 8K resolution
Enter the new era of resolution that brings a new dimension of reality to your living room in large screens
8K AI Upscaling
Upscale various types of sources and resolutions into 8K through machine learning
Quantum Processor 8K
Powered by AI, Samsung's very own processor not only intelligently optimizes picture quality and sound, but also connects to other home devices and provides new TV experiences
QuickDrive™
Up to half the time washing1 . Full clean performance.
Wash up to 50% faster.1
QuickDrive™ reduces washing time by up to 50%1 , with a full clean performance. The double forces wash quickly, powerfully and gently.
Unique Q-Drum™
The technology that makes it all possible. The Q-Drum™ consists of a separate drum and backplate that rotate independently, delivering twice the power in up to half the time.1
Smart Control functions
Download the Q-rator app to act as your personal laundry expert that recommends the optimal wash cycle for each load. It also enables to manage your wash while you're away, program your wash to be ready by a desired end time and even monitor the status of your machine.2
* Tested on Samsung WW8800M compared with WW8500K. Saves up to 50% time on Cotton (40℃, half load) with washing performance within ±2% based on Intertek data.
Cycle duration may vary depending on the water supply and weight/type of laundry.
Enhanced performance
Experience a new level of power with long lasting battery, super-fast downloads and up to 512GB internal storage with up to 400GB expandable memory . The 4000mAh battery is designed to help you get through your day while you stream videos, download and upload files without interruption.
Bluetooth enabled S Pen
The Note series signature S Pen now comes with Bluetooth capabilities to become a remote control for your Galaxy Note9.
Intelligent camera
Capture amazing detail with the camera that takes clear and vivid photos, even in low light. And with new intelligent features like Scene Optimizer and Flaw Detection, it's nearly impossible to take a bad shot.
* Actual speed may vary by country or carrier. Actual speed may vary based on user environment.
* 512GB model has up to 492GB user accessible memory. May vary depending on apps or software. 400GB microSD card sold separately.
1 Compared with previous Samsung WW6500K. Saves up to 50% time on Cotton (40C, half load), based on Intertek testing conducted to IEC 60456:2010. Cycle duration may vary depending on the water supply and weight/type of laundry.
2 Compatible device, app and Wi-Fi connection required. The recommended washing cycle is only based on time and may not be appropriate based on type of fabrics or stain level of the articles being washed.