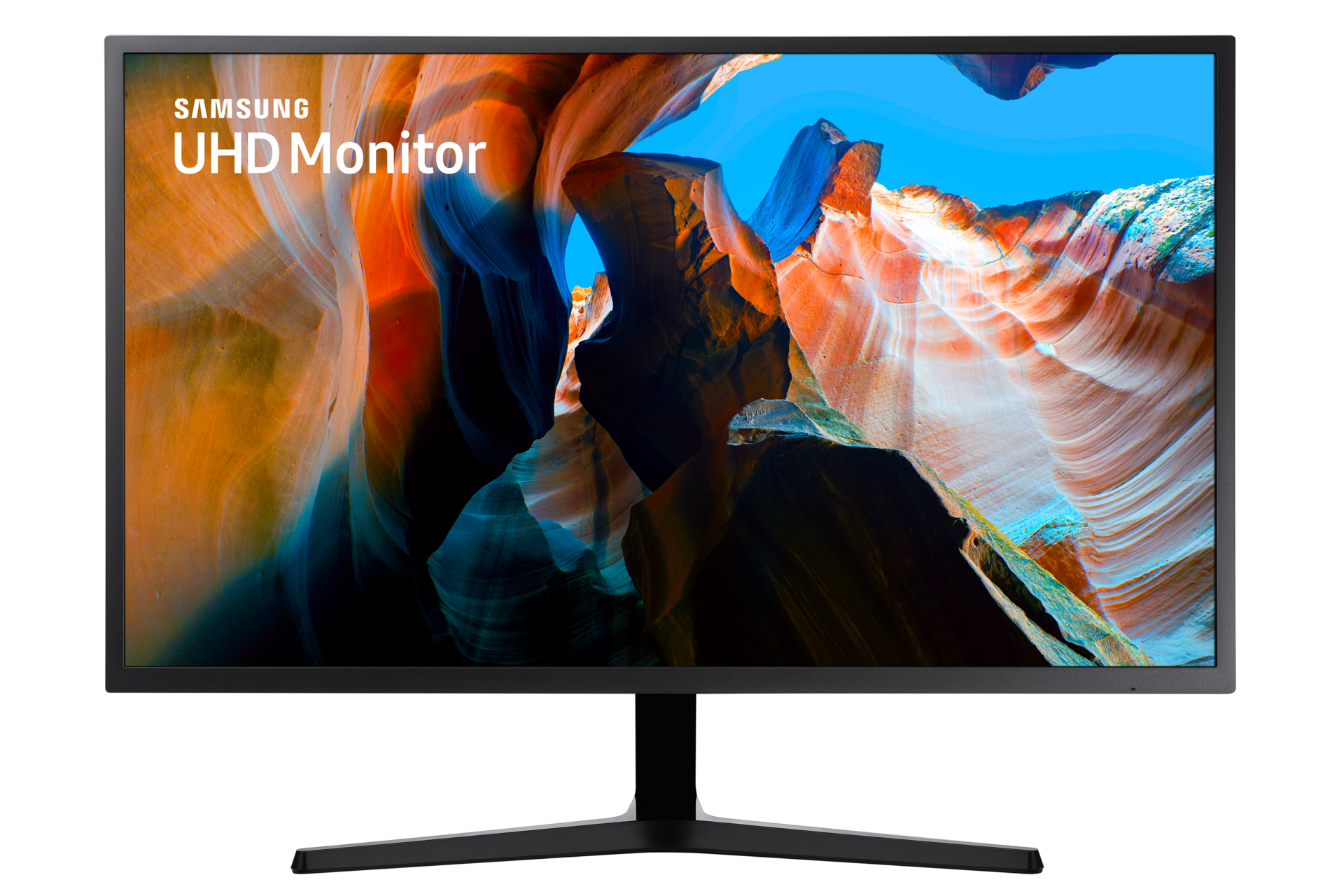 32" UHD 4k QLED Monitor (UJ590)
LU32J590UQEXXY
32" UHD monitor (U32J590UQE)
is rated out of
5
by
13
.
BUNDLE
3000:1(Typ),2000:1(Min)
Contrast Ratio Static
More Pixels.* More Possibilities
*compared with Samsung Full HD monitors.
Widescreen UHD
With 4x the pixels of Full HD, the 31.5" UJ59 delivers more screen space and amazingly life-like UHD images. That means you can view documents and webpages with less scrolling, work more comfortably with multiple windows and toolbars, and enjoy photos, videos and games in stunning 4K quality.
A billion colour shades
Supporting a billion shades of colour, the UJ59 delivers incredibly vivid and realistic images. Its accuracy means colours appear more natural and true to life,* making the UJ59 useful for photo, video and graphics applications
*Compared to Samsung FHD monitors.
Widescreen 4K Gaming
Discover 4K gaming in true widescreen on the 31.5" UJ59 monitor. With 8.3 million pixels supporting a wider range of colours and resolving every image with simply astonishing clarity, 4K gaming is a truly thrilling and immersive experience.
Smooth Gameplay
AMD FreeSync is designed to synchronise the refresh rate of your graphics card and monitor to reduce image tear and stutter. And Low Input Lag is designed to help minimize the delay between mouse, keyboard, or joystick input and onscreen response for a smooth gaming experience.
Game Mode
Game Mode is designed to optimise screen contrast. By selectively boosting contrast in scenes, Game Mode reveals detail in dark areas to let you spot your enemies fast.
Superb upscaling
Samsung's UHD upscaling technology includes signal analysis and detail enhancement that converts SD, HD and Full HD content such that it can be used on this UHD monitor*
*Picture quality of up-scaled content may vary depending on source content. Picture quality will not reach UHD quality.
Slim bezels
Framed by slim screen bezels and finished in stylish matte black, the UJ59 sits elegantly on any desktop. And its Y-shaped stand provides a firm footing and a refined metallic touch.
16:9

Aspect Ratio

270cd/m2

Brightness

3000:1(Typ),2000:1(Min)

Contrast Ratio Static

3840 x 2160

Resolution

4(GTG)

Response Time

178°/178°

Viewing Angle
Rated

4

out of

5
by
GuyWhoBoughtTheMonitor
from
Not perfect but a very, very fine monitor
Had it for about a year and have never had so much a hiccup or malfunction. The screen display is gorgeous, really nice blacks and vibrant colours and overall a fantastic monitor for gaming and work (32 inch makes having 4 windows going at the same time pretty practical, actually). It also has an eye saver mode which is a nice addition. I do have a couple qualms though. I run a pretty tech intense day on it between the PS4 Pro, PC and Chromecast ultra, all 4k 60hz capable devices. While they all work great, there is only one HDMI at the back that supports 4k 60hz while the other only supports 4k 30hz (haven't got around to using the displayport as I don't have the adapter/cable). This wouldn't be an issue if the HDMI ports at the back were a little more accessible but having to reach around right to the middle of the back to switch between devices got old pretty quick. My other issue is the design, which is a little chunky compared to other monitors you see in a similar price bracket. The bezels aren't ugly but they certainly aren't slim and the stand takes up a surprising amount of space on the desk, especially because the stand extends backwards about 13cm so it won't sit flush against the back of a desk. The stand, in total, is about 25cm from front to back (it also has a nice, built-in clip on it for cable management). If I were back in the store looking at monitors, I would look to maybe spend the extra buck and get something a bit more sleek but I certainly wouldn't look past Samsung. The low latency, high resolution performance of this monitor outshines any of the minor faults by far and I would absolutely recommend this to anyone looking for a large, good looking monitor for gaming and work.
Date published: 2019-10-28
Rated

5

out of

5
by
John47
from
Best value for 4k monitor
Pros: The monitor takes full advantage of the 4k resolution as a 32 inch monitor. Usually, it is difficult to distinguish the difference between 1080p and 4k screen in monitors that are 27 inches or smaller. In terms of performance, the monitor makes little compromises considering its price. The screen is matte and does not flicker which I found great for taking photos with my phone of the monitor's screen. The input lag is great, the monitor responses to scrolls and sudden mouse movements very well. The brightness of the monitor is fine, you can still spot the enemies chilling in the corner (though I wish it was little brighter for watching movies). The contrast ratio of 3000:1 is great vs the competition's 1000:1, at night, you don't experience the white tint issue in low brightness settings. 10-bit colour depth makes whole lots of difference from being able to see the mists of clouds in the blue sky to nothing with the 8-bit colour depths. Details/specs: Brightness: 270 nits Srgb: 125% Adobe RGB: 88% Colour Depth: 10-bit (1 billion colours) Contrast ratio: 3000:1 No HDR10 Cons Lacks features, no USB-A or USB-C for charging mobiles devices. HDMI no.1 does not support 4k 60hz (HDMI 2 and Displayport does). The build quality is compromised for the high end screen. You can see the RAW sheet metal material on the IO ports. The monitor cannot swivel which is annoying as it is difficult to repeatly turn the 6kg, 32 inch monitor for the change of viewing location. The monitor takes a while to wake up from sleep mode (10~15 seconds)
Date published: 2018-11-13
Rated

5

out of

5
by
tam171980
from
Great, love it!
I bought this a few weeks back for my partner, and he absolutely loves it. Very clear picture, great colours!
Date published: 2018-12-11
Rated

1

out of

5
by
Pedro1951b
from
periodical black screen problem
I bought this monitor two moths ago for my home office, for my Windows 10 PC for my "for photo, video and graphics applications" convinced by the high quality advertised by Samsung " A billion colour shades, Supporting a billion shades of colour, the UJ59 delivers incredibly vivid and realistic images. Its accuracy means colours appear more natural and true to life,* making the UJ59 useful for photo, video and graphics applications". Problem: Unfortunately I get periodically a very annoying "black screen", which does not go away until I go to task manager on windows. I updated the NVIDIA Graphic drivers, I tried to reduce the resolution which allows yo to go from a refresh rate of 30 fps (native) to 60 fps, but the situation remained the same . I even upgraded the graphic card from NVIDIA GeForce GTX 65 to NVIDIA GeForce GTX 1050 and still the same problem. Further, the viewing angle of 178/178 is questionable. 4GTG? and only "30 fps" on native resolution, 270cd/m2 Brightness?. I am not convinced and disappointed. I need something good and reliable for my work. I am not a gamer. I had to resort back to my old Kogan KALED27MONB is superior in refresh rate and muc, lower resulution, but much better wiving angle, perfect brightness and most imploringly no more periodically work disruptive "Black Screens", which points to this specific Samsung monitor and not to my desktop system.
Date published: 2019-05-07
Rated

5

out of

5
by
AddSym
from
Excellent all round monitors
I bought this monitor a month ago. Great looking screen and size. Doesn't have speakers though. Been great for all round performance
Date published: 2018-09-21
Rated

2

out of

5
by
Kameron
from
Xbox One X
When i bought this monitor i'd planned to use it with my xbox one x but when i attempt to support 4k it says that my monitor wont enable, wondering why this is
Date published: 2019-11-13
Rated

1

out of

5
by
Jean9462
from
Horrible
unfortunately it's not as good as it looks and I'm a gamer. I had this monitor by 4 beautiful months and by the end of the first month of use, I have been seeing that it has some problems in the image that bother darkened in dark areas or any color with a dark tone, it is as if between the blue and light blue color there is a line that separates them. I also have this problem on my cell phone but unfortunately it happened after the warranty If someone has the same problem please let me know.
Date published: 2019-11-12
Rated

1

out of

5
by
Ian plus one character
from
Worked great - fpr one day
I installed this yesterday and it worked well on my mac. Overnight everything became purple haze. The mac screen is showing all correct colours but the U32J59 is unuseable.
Date published: 2019-11-06
User manual & Downloads
Live Chat
* Key feature may different from Key Spec