Layout and Features of the Samsung 60cm Electric Cooktop
Last Update date :
Oct 14. 2021
Please Note: The information on this page is for Australian products only. Models, sequences, error codes or settings will vary depending on location and/or where the product had been purchased. To be redirected to your local support page please click here.
When you first get your Samsung 60cm Electric Cooktop, you will want to start cooking up a storm straight away using the many features and Multi-Purpose Zone that easily accommodates a variety of different shaped pots, pans and casserole dishes.
First, let's get you started on where everything is and what sections of your cooktop is best suited for your cookware.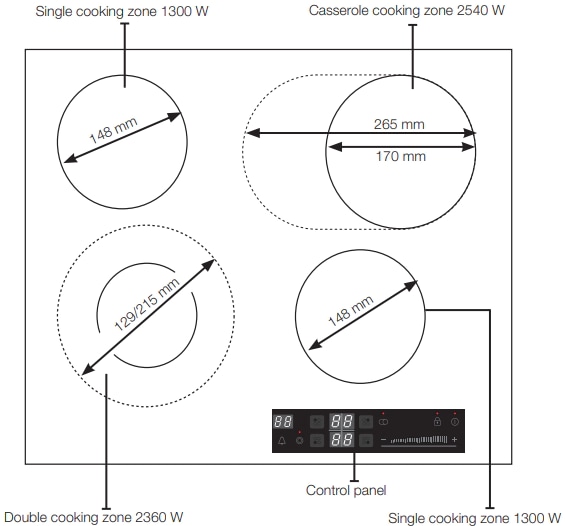 The Key Features of your Appliance
Ceramic glass cooking surface: The appliance has a ceramic glass cooking surface and four rapid - response cooking zones. The hob's powerful radiant heater elements significantly shorten the amount of time required for the zones to heat up.
Touch control sensors: Your appliance is operated using touch control sensors.
Easy cleaning: The advantage of the ceramic glass cooking surface and the control sensors is their accessibility for cleaning. The smooth, flat surface is easy to clean.
On/Off sensor: The "On/Off" control sensor provides the appliance with a separate mains switch. Touching this sensor switches the power supply on or off completely.
Control and function indicators: Digital displays and indicator lights provide information about settings and activated functions, as well as the presence of residual heat in the various cooking zones.
Safety shutoff: A safety shutoff ensures that cooking zones switch off automatically after a period of time if the setting has not been changed.
Residual heat indicator: An icon for residual heat appears in the display if the cooking zone is so hot that there is a risk of burning.
Double cooking zone: The cooking surface features a double cooking zone. This provides the appliance with a cooking zone of variable size, for instance, for when cooking with smaller cookware. This allows savings in energy.
Multipurpose cooking zone: The hob is equipped with a multipurpose / casserole cooking zone. Depending on the setting, it can be used as a round or oval cooking zone, for example, when cooking with oval casseroles or for keeping dishes or food warm.
Digital displays: The four display fields are assigned to the four cooking zones. They show the following information:
 the appliance has been switched on.
 to  selected heat settings.
 residual heat.
 the child lock is activated
 error message, the sensor has been touched for longer than 10 seconds.
 error message, when the hob is overheated because of abnormal operation. (example : operation with empty cookware)