Bleach Compartment In My Samsung Washer.
Last modified :
Aug 28. 2019
With some top loader and front loader Samsung washers comes a bleach department. Adding bleach to a load of washing gets your whites looking like brand new. Bleach is not to be used with colours though. Only use liquid non-chlorine bleach in your bleach compartment. Follow the instructions below on how to use bleach compartment in your washing machine:
Top Load Washing Machine.
The bleach compartment is located on the left side of the tub.
1
Add non-chlorine bleach into the bleach compartment.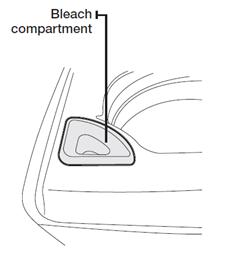 2
Refer to the bleach container for correct measurements to use.
Front Loader Washing Machine
The washing machine provides a three-compartment dispenser, located on the front of the machine. The left compartment for the main wash, the front-right for fabric softeners, and the rear-right for the pre-wash.
1
Pre-wash Compartment: Apply pre-wash detergent.
2
Main-wash compartment: Apply main-wash detergent, water softener, soaking detergent, bleach , and/or stain removers.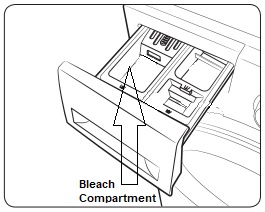 3
Softener compartment: Apply additives such as fabric softener. Do not exceed the max line (A) .
Please note:
●      Do not exceed the MAX FILL line.
●      Avoid splashing or over filling the compartment.
●      Your washer automatically dispenses bleach into the tub.
●      Never pour undiluted bleach directly onto the load or into the tub. It can cause fabric damage, such as weakening of the fibres or colour loss.
●      If you prefer to use colour-safe, non-chlorine bleach, add it to the appropriate detergent compartment, please refer to the User Manual (follow the prompts and select the model of your washing machine). DO NOT pour colour-safe bleach into the bleach compartment.
●      Bleach is recommended to be used with white clothes/fabrics only. 
Your laundry items usually come with fabric care items on the tag. The care labels include four symbols in this order: washing, bleaching, drying and ironing. Sometimes dry cleaning if necessary. Follow the care labels by using the fabric care chart below.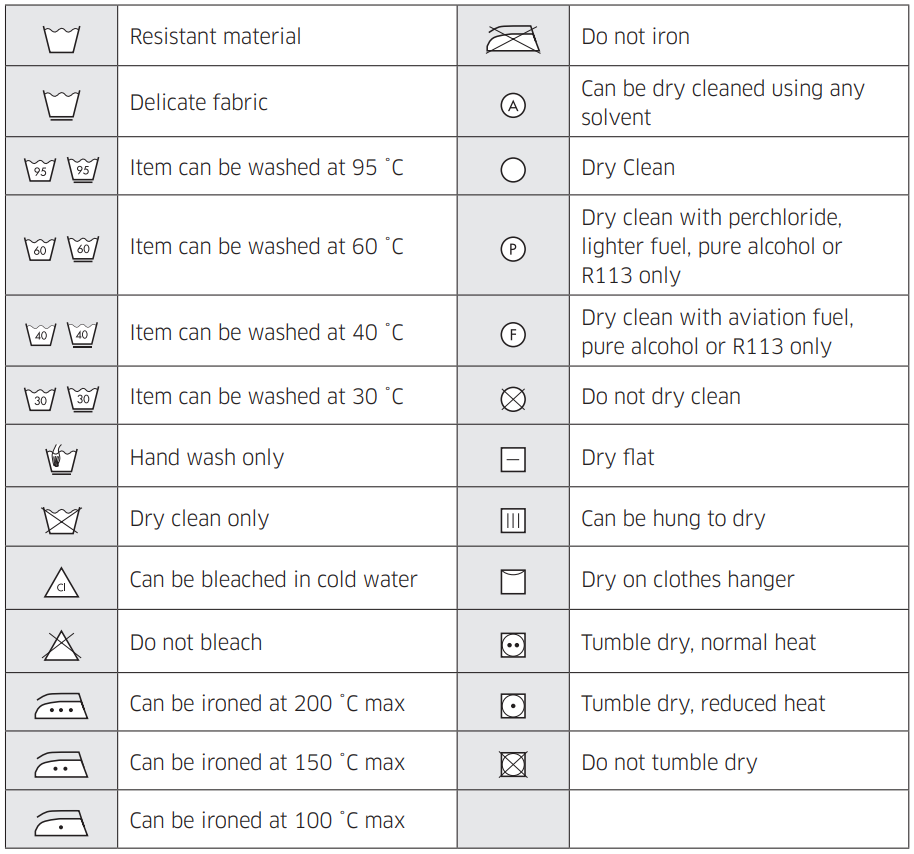 If you require more information, please get in touch with our Samsung Care experts on 1300 362 603 (Toll Free in Australia) or contact our Live Chat Australia team to organise a technician to come out and diagnose further.
Did not find what you're looking for? We're here to help.
Call
For all Mobile device enquiries
1300 425 299
1300 GALAXY

24 hours / 7 days a week
Toll Free in Australia
For all other product enquiries
1300 362 603

24 hours / 7 days a week
Toll Free in Australia
From overseas
+612 8293 5712

24 hours / 7 days a week
Face-to-Face Support

In-Store Support
Create a booking to see one of our friendly Samsung staff members at one of our Samsung Retail Stores.
Contact Us