Using Pro Mode on my Samsung Phone
Last Update date :
Oct 20. 2020
Pro mode puts the control in your hands so you get the very photo and video you want. Manually adjust settings such as ISO, shutter speed and exposure levels, express your own style with filters, or adjust the white balance settings to accommodate different lighting conditions. Follow the below guide to learn how to use Pro Mode on your Galaxy phone.

Please Note: This guide is designed for Australian variant Galaxy devices operaing on Android OS Version 10.0 (Q), ifyou have an international device and require further support click here to get in touch with your Samsung subsidiary. Screenshots were captured from a Galaxy S20+ operating on Android OS Version 10.0 (Q), settings and steps available may vary depending on your Galaxy device and camera specifications.

Prior to following the below guide it is important to understand that some camera settings and modes may not be available on your Galaxy device, as this will depend on your camera specifications and software version - click here to search for your Galaxy device camera specifications.

1
Launch the
Camera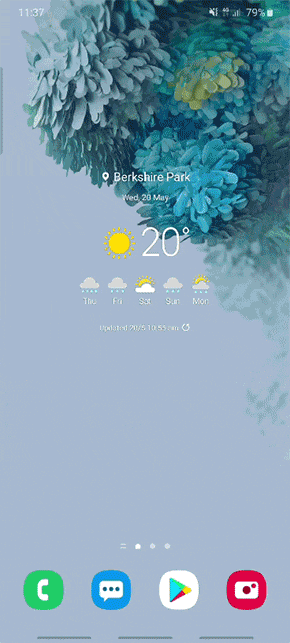 2
Swipe to MORE and select

Pro Mode
3
Tap on the available Camera settings and adjust to suit your preference

 ISO: Select an ISO value. This controls camera light sensitivity. Low values are for stationary or brightly lit objects. Higher values are for fast-moving or poorly lit objects. However, higher ISO settings can result in noise in photos or videos.


 Aperture & Shutter Speed:  Adjust the shutter speed. A slow shutter speed allows more light in, so the photo or video becomes brighter. This is ideal for photos or videos of scenery or photos or videos taken at night. A fast shutter speed allows less light in. This is ideal for capturing photos or videos of fast-moving subjects.
 Standard: Adjust colour temperature, Tint, Contrast, Saturation, Highlight and Shadows individually
 Manual Focus: Change the focus mode. Drag the adjustment bar towards
or

to manually adjust the focus. To switch to auto focus mode, tap MANUAL.

 White Balance: Select an appropriate white balance, so images have a true-to-life colour range. You can set the colour temperature.

Exposure: Change the exposure value. This determines how much light the camera's sensor receives. For low-light situations, use a higher exposure.
Please Note: If the shutter speed is set to Manually, you cannot set ISO setting to Auto, you are also unable to change exposure value. The exposure value will change and be displayed based on the shutter speed setting.
4
If you would like to change the Camera Ratio, tap on

and select between 3:4, 9:16, 1.1 or Full. Once you are happy with your camera settings and position tap on the capture button to take your Pro Mode photo.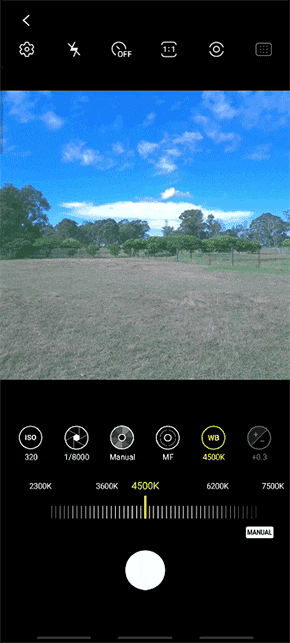 5
Once you have captured your Pro Mode photo, you will be able to view within your Gallery