Galaxy S10 Screen Waking up
Last modified :
Mar 20. 2019
Noticing that your Galaxy S10 screen randomly wakes up without any notifcations popping up? This could be due to an advanced feature you have enabled within your settings.
Ensure you haven't enabled Lift to Wake or Double tap to wake up within your Advanced Feature Settings.
1
Head into your Settings menu > Advanced Features
2
Tap on Motion and Gestures
3
Toggle off Lift to wake and Double tap to wake up
Enabling Accidental Touches
1
Try toggling in Accidental touch Protection to prevent your phone from accidental touches when its in a dark place like your pocket or bag. To turn this feature on, head into your Settings > Display > toggle on Accidental Touch Protection.
Still noticing your Galaxy S10 screen waking up even after turing off the about Advanced Features? Try resetting your system settings, this will reset your phone to its default settings excluding your securoty, language and account settings. 

Resetting System Settings will remove any customisations you've made to your phone such as ringtone and Do Not Disturb.

To Reset System Settings follow the below Steps:
2
Tap on General Management
4
Tap option Reset Settings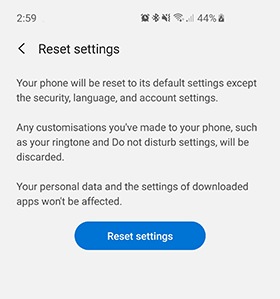 Did not find what you're looking for? We're here to help.
Face-to-Face Support

In-Store Support
Create a booking to see one of our friendly Samsung staff members at one of our Samsung Retail Stores.
Contact Us