How to toggle NFC settings on a phone
Last modified :
Nov 07. 2018
Does your phone sometimes make a bubble kind of noise when you open or close your phone case? It could be a constant noise or only when you lay your mobile device on a surface. Most Samsung mobile devices have a Near Field Communication - or NFC - chip built in, and out of the box the NFC setting is switched on. 
When NFC is switched on, it means that when your mobile phone is around another NFC enabled devices, or a credit card, even a magnetic phone case - the NFC chip is going to try to read the information and make a connection. It usually makes a quick beep, or a bubble kind of noise when it tries to initiate the connection. The simplest way to stop this from happening, especially if you use a phone case that doubles as a wallet, is to turn NFC off completely.
Please Note: If you regularly use any Tap and Pay services like Samsung Pay, or another app that allows you to pay with your phone, you need NFC switched on to make a payment. If you don't use any Tap and Pay services, and you're plagued with beeps or noises - follow the steps below to turn NFC off.
While the screenshots below are from Android 8 Oreo, the steps to turn off NFC in the quick settings are the same on all Samsung mobile devices.
1
Using TWO fingers, swipe down from the top of the screen. It doesn't matter where you are in your phone.
If your device is running OS 7 Nougat or higher, you may need to swipe from right to left across the top of the screen to find the NFC icon.
2
Tap the NFC icon so that it changes to a grey colour. If it is blue or green NFC is active.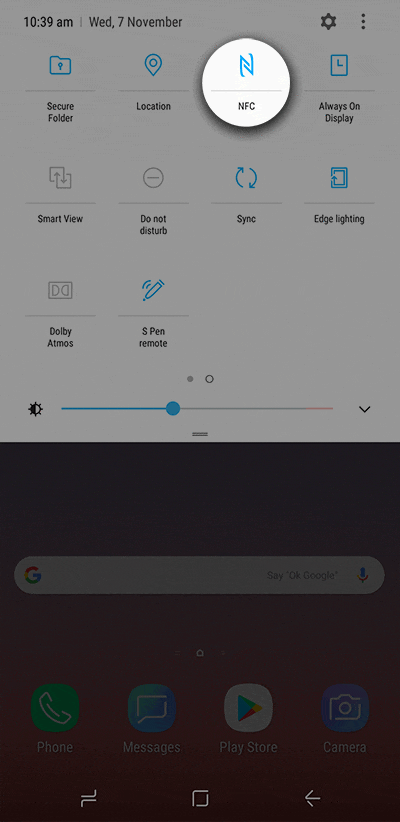 If turning off NFC doesn't help with the beeping or notification sounds, check out our page on What is Notification Reminder? Notification Reminder is an accessiblity setting that causes more regular, constant notification sounds. 
If your mobile device is making noises that you can't track down and you've already turned off Notification Reminder and NFC, please reach out by Live Chat or call 1300 GALAXY (1300 425 299 - Toll Free in Australia). Our Samsung Care experts can help.
Did not find what you're looking for? We're here to help.
Call
For all Mobile device enquiries
1300 425 299
1300 GALAXY

24 hours / 7 days a week
Toll Free in Australia
For all other product enquiries
1300 362 603

24 hours / 7 days a week
Toll Free in Australia
From overseas
+612 8293 5712

24 hours / 7 days a week
Face-to-Face Support

In-Store Support
Create a booking to see one of our friendly Samsung staff members at one of our Samsung Retail Stores.
Contact Us