Setting up Fall Detection function on the Galaxy Watch3
Last Update date :
Aug 28. 2020
The Galaxy Watch3 is designed to automatically detects hard falls with its enhanced accelerometer, sending an SOS message to your Emergency contact with your location as well as allow you to call your Emergency contacts. Follow the below guide to learn how to setup Fall Detection function on your Galaxy Watch3.
**Galaxy Watch3 cannot detect all falls. Intense physical activity can trigger Fall Detection feature Sending SOS calls and messages requires network connection and smartphone pairing. Galaxy Watch 3 is not a medical/therapeutic device and is not intended for medical use. It is solely intended for fitness and wellness purposes only and is not intended for use in the diagnosis of disease or other conditions; or in the cure, mitigation, treatment or prevention of disease; or for the prevention or control of pregnancy. Samsung recommends that you consult with your doctor before participating in any exercise program. Using Samsung Health app with Galaxy Watch 3 requires signup and pairing with your compatible smartphone. Fall Detection must be switched on and your Location must be enabled to share with your Emergency contact.
Please Note: This guide is designed for Australian variant Galaxy devices, if you have an international device and require further support click here to get in touch with your Samsung subsidiary. 
1
Launch the
Galaxy Wearable app
2
Tap on SOS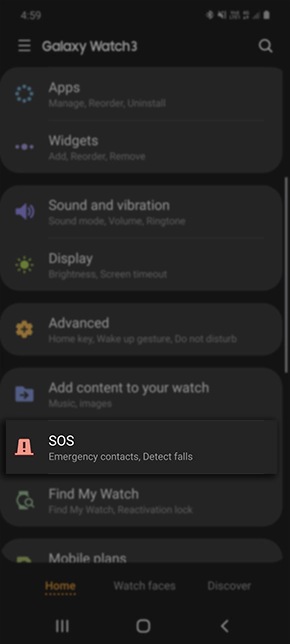 3
Toggle on Detect falls
4
Tap on Create contact or Select from Contacts
5
Choose an Emergency contact to add
6
Once set up you can view your Emergency contacts, Make SOS calls to and choose to enable Send SOSes to your selected Emergency contact.
Please Note: After a fall, your watch will alert you for 60 seconds with a popup, sound and vibration. You can cancel the alert or swipe to send SOSes right away. If you don't respond for 60 seconds, an SOS message will be sent to your Emergency contacts.