Using Super Slow-mo on my Samsung phone
Last modified :
May 20. 2020
In general, slow motion video works by shooting at a high frames per second (fps) rate and then playing it back at a much slower rate. This creates interesting videos where the action is slowed way down. With the Super Slow-mo feature, the action is shot at 960 fps, which is four times faster than regular slow motion. When it's played back at 30 fps, that's 32x slower, which makes everyday moments look epic. And in Super Slow-mo, you can record approximately 0.4 seconds of video captured at 960 fps on Galaxy Phone. Follow the below guide to learn how to ue Super Slow-mo on your Samsung phone.

Please Note: This guide is designed for Australian variant Galaxy devices, if you have an international device and require further support click here to get in touch with your Samsung subsidiary. Compatibility and steps may vary depending on your Galaxy device and specifications. Screenshots were captured from a Galaxy S20+ operating on Android OS Version 10 (Q), settings may vary depending on your Galaxy device and Android OS Version. 
1
Head into the
Camera app
2
Swipe to MORE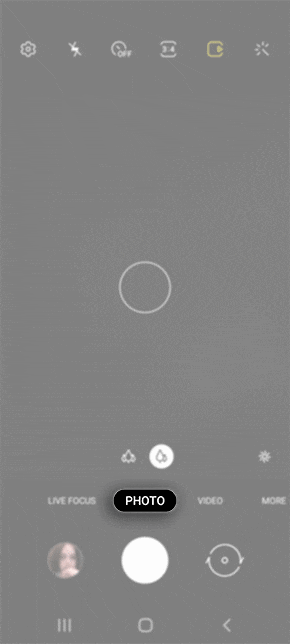 3
Select SUPER SLOW-MO
4
Tap on
to turn on or off Motion Detection
Once you have enabled Motion Detection you can adjust this box accordingly to automatically record in Super Slow-mo when an object enters this box. Once the action has been recorded, your video will automatically stop.

5
To record your Super Slow-mo video tap on
6
To view your Super Slow-mo video simply head back into your Gallery.
For best results, try recording in bright natural light as artifical lights may cause flickering. If you do notice flickering in the playback of the Super Slow-mo video, you can enable Remove Flickering. This will minimise the amount of artifical light flickering within the video playback. Simply play Super Slow-mo video then tap on the 3 dots menu in the top right and toggle on Remove Flickering.

Did not find what you're looking for? We're here to help.
Call
1300 362 603
8am-8pm / 7 days a week
For general enquires and technical support relating to all Samsung products : CLICK HERE
For all Printer related inquiries, please
click here
or visit
https://www.support.hp.com
Please
click here
to view the latest news regarding the Samsung sale of Printer business to HP.
Contact Us