How do I install the Evolution Kit to my Smart TV?
Last Update date :
Oct 11. 2021
Please follow the instructions below to install the Evolution Kit on your TV:
Please note: Evolution kit is compatible with only certain TV models manufactured in 2013 and 2014. Check the compatibility of Evolution kit with your Smart TV on your user manual supplied with the Evolution Kit.
1
Turn OFF your TV and unplug it from the power point (wall socket).
2
Remove the sticky label from the back of the TV which is labelled Evolution Kit.
3
Remove the rubber cover from the large plug connector on the Evolution kit itself and line up the Evolution Kit with the two slots and insert in it as shown in the diagram.
4
Swing the Evolution Kit round into place as if closing a door; this will align the large connector of the Evolution Kit to the large socket of the TV.
5
Ensure that the Evolution Kit is attached securely by pushing it towards the rear of the TV until you feel a click (you will need to support the TV while you are pushing against it). Gently pull the right hand side of the Evolution Kit to check that you have installed it correctly, if the kit comes away from the rear of the TV, then repeat steps 3 to 5. The Evolution Kit will not move if it has been installed correctly.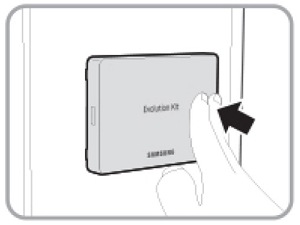 6
Plug the TV back into the power point and then turn ON your TV. The TV will detect the Evolution Kit and start the installation process and write new software to your TV, once done the unit will automatically switch itself OFF and ON again. Next, you will see the new Smart TV Welcome video followed by an Evolution Kit installation screen.
7
The setup process will take about a minute to complete. Follow the on-screen menus until it prompts that the Evolution Kit has been successfully installed to your Samsung television.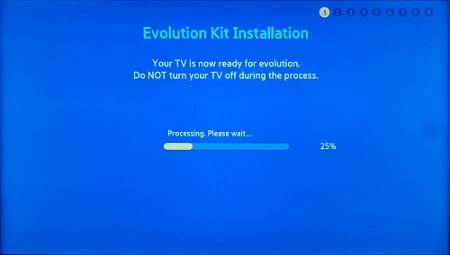 This product should be mounted to a wall or other suitable surface to avoid serious injury. Find out more here.