How do I reset Smart Hub on E-series Smart TV?
Last modified :
Nov 25. 2019
You can perform a manual reset of Smart Hub on your Smart TV by following these steps:
1
Select the

Smart Hub icon on your remote control
2
Step 2: Select Tools on the bottom right hand side of the screen.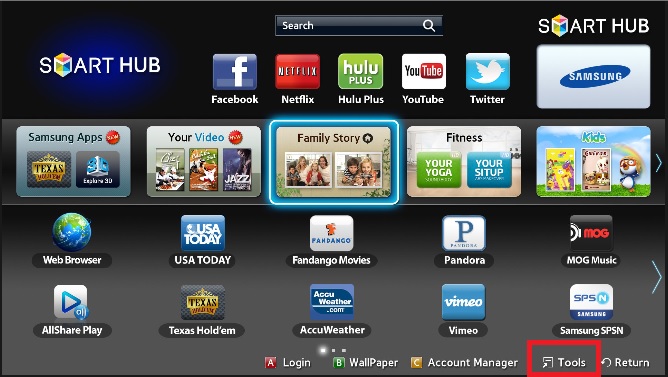 3
Scroll down and select Settings .

4
Scroll down and select Reset and press the Enter

return on the remote control which is the centre button on the cross head of the remote control.
     This product should be mounted to a wall or other suitable surface to avoid serious injury. Find out more here.
Did not find what you're looking for? We're here to help.
Call
1300 362 603
8am-8pm / Monday to Friday
For general enquires and technical support relating to all Samsung products : CLICK HERE
For all Printer related inquiries, please
click here
or visit
https://www.support.hp.com
Please
click here
to view the latest news regarding the Samsung sale of Printer business to HP.
Contact Us