How to use Bixby on a Samsung Smart TV
Last Update date :
Oct 07. 2022
Use Bixby to access all sorts of functions on your Samsung TV with just your voice. You can search for content, find apps and ask for requests such as "How's the weather?"

Bixby makes it seamless for you to be hands-free and enhance your entertainment experience, minimising your time spent navigating through menus and maximising your time watching the shows you love.
If you would like to learn more on what commands you can use, head to our page Bixby Voice Commands for my Samsung TV.
Please Note: The information on this page is for Australian products only. Models, sequences or settings will vary depending on location and/or where the product had been purchased. To be redirected to your local support page please click here.
Set up Bixby
1
Ensure that your TV is connected to the internet
3
Press the
Home button on your remote control and then select Menu
4
Navigate to
Settings then All Settings
5
Select General & Privacy then Voice
Note: You may be asked to register a voice ID. This will help you login to your Samsung account in the future.
6
Choose OK to begin setup
7
Select Bixby then follow the prompts to complete setup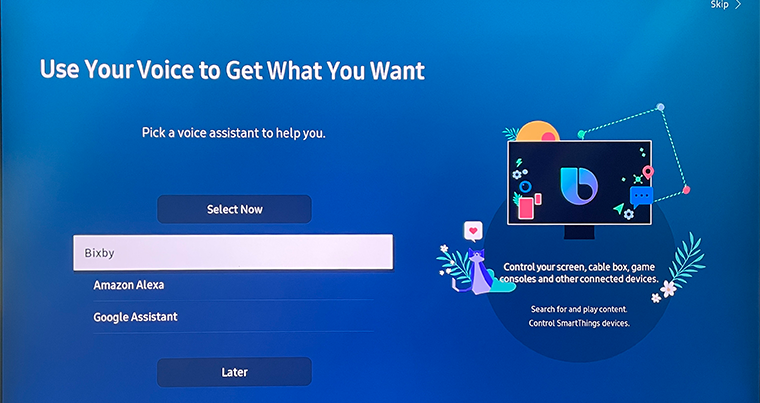 Using Bixby
Method 1. Start Bixby by holding the 
 Mic button on your remote control and speaking into your remote.
Method 2. Starting Bixby by way of your voice (selected models). You can activate Bixby by saying "Hi, Bixby".  To see if this feature is available on your TV model, check if Voice Wake-up setting is present on your TV (Settings > General > Voice > Voice Wake-up On)
When Bixby is activated, the Bixby icon will appear and the LED on the remote will flash red. The appropriate distance between the user and the remote is 1.5 m.
Note:
If you do not turn on the Voice Wake-up function, you can activate Bixby only by pressing the voice icon on the remote.
The battery life of the remote will be shortened by using Voice Wake-up.
This feature requires an Internet connection.
A Samsung account must be registered and logged in on the TV.
Device screenshots and the menu are only a sample in English - they are also available in the language of your country.
Bixby Voice Settings
Accessing Bixby Voice Settings
1
Press the
Home button on your remote control and then select Menu
2
Navigate to
Settings then All Settings
3
Select General & Privacy then Voice
4
Choose Bixby Voice Settings
Note: Ensure your Voice Assistant is set to Bixby. 
4
Here you can view the Bixby Voice Settings.
The settings include:
Language Settings: Select a language for Bixby Voice. This wont change the language of your TV or other apps
Voice Response: Select from the available voices of your Bixby assistant
Sound Feedback: Play a sound when Bixby starts and stops listening after you wake Bixby with the remote
Privacy: Allow audio recording reviews and have Bixby personalised
About Bixby Voice: View the Terms and Conditions and Privacy Notice
Note: Settings may differ depending on the model of your TV.

  This product should be mounted to a wall or other suitable surface to avoid serious injury. Find out more here.
We would love to know your feedback to help us improve. Please click submit to tell us what you think.
Please answer all questions.