How to adjust settings on my 3D TV
Last modified :
Apr 05. 2019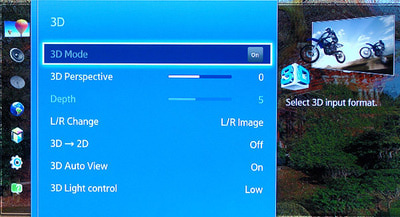 You can modify the 3D settings of your 3D TV by adjusting the options listed below:
3D Mode: Allows for detailed management of 3D setting paramenters, including 3D feature deactivation, 2D-to-3D conversion, and more. 
3D Perspective: Adjusts the 3D perspective (relationship between objects). 
Depth: Adjust the depth of the 3D image. 
L/R Change: Reverses left and right eye image data. 
3D to 2D: Converts 3D content to 2D. 
3D Auto View: Sets the TV to automatically detect incoming 3D signals. 
3D Light Control: Provides additional brightness presets to compensate for the 3D darkening effect when using 3D glasses.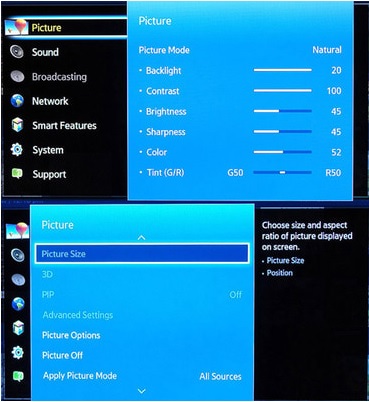 Picture Mode:
Dynamic (increases overall brightness - may be too intense from most room lighting conditions)
Standard (default), Natural (helps reduce eyestrain)
Movie (screen brightness is dimmed to be more like would you see in a movie theater - for use in dark rooms). 
Picture Controls: Backlight, Contrast, Brightness, Sharpness, Color, Tint. 
Picture Size: Provides Aspect Ratio (16:9, 4:3) and Image Size (Zoom 1/2, setting options, Wide Fit, Screen Fit, Smart View 1/2).
3D: Takes user to 3D settings menu. 
PIP: Picture-in-Picture. This allows the display of two sources on the screen at the same time (such as one TV channel and other source - you cannot display two TV channels at the same time). This feature cannot be sued when the Smart Hub or 3D features are on.
Advanced Settings: Provides extensive picture adjustments and calibration settings - refer to e-Menu for the all the options.
Picture Options: Provides additional picture quality settings, such as Colour Tone (Colour Temperature), Digital Clean View (Reduces Ghosting on weak signals), MPEG Noise Filter (reduces background video noise), HDMI black level, Film Mode, Auto Motion Plus (refresh rate), Smart LED (local dimming), Cinema Black (slightly dimes the top and bottom of the image). 
Picture Off: Turn off the TV screen and allows audio only playback. 
Apply Picture Mode: Enables user to apply pictures setting to the current source or all input sources. In other words, picture settings can be made for each individual source.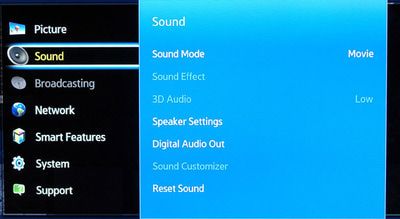 To modify the sound settings on your 3D TV press the Menu button on your remote control and select Sound from the sidebar. Use the options below to adjust sound settings of your 3D TV:

Sound Mode: A selection of pre-set sound settings such as  Standard, Music, Movie, Clear Voice (emphasises vocals and dialog), Amplify (emphasises high frequency sounds), Stadium (best for Sports).

Sound Effect: Virtual Surround, Dialog Clarity, Equalizer.

3D Audio: Adds a more immersive soundfield when watching 3D content, only accessible when viewing content in 3D.

Speaker Settings: Selects between internal speakers, external audio system, or both.

Digital Audio Output: Audio Format, Audio Delay (lip sync).

Sound Customiser: Provides and audio setup system using test tones.

Reset Sound: Returns sound settings to factory defaults.
     This product should be mounted to a wall or other suitable surface to avoid serious injury. Find out more here.
Did not find what you're looking for? We're here to help.
Face-to-Face Support

In-Store Support
Create a booking to see one of our friendly Samsung staff members at one of our Samsung Retail Stores.
Contact Us