Galaxy A5 (2017) - Samsung Notes (SM-A520W)
Last Update date :
Oct 01. 2020
Create notes by entering text from the keyboard or by writing or drawing on the screen. You can also insert images or voice recordings into your notes.
The provided information refers to the devices sold in Canada. Screens and settings available may vary depending on your Canadian wireless service provider and your software version.
1
From the Home screen, touch Apps.
3
Touch the Create icon (in the bottom right corner).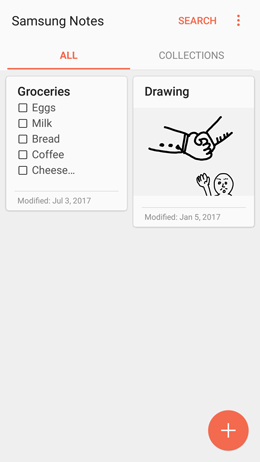 4
Select an input method from the toolbar at the top of the screen and compose a note: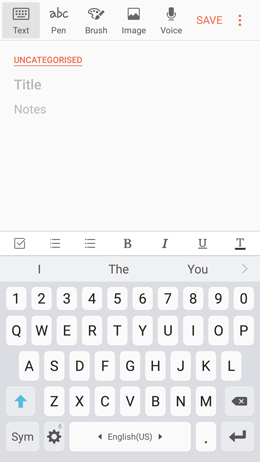 • Text: Enter text using the keyboard.
• Pen: Write or draw with pens.
• Brush: Paint with brushes.
• Image: Insert an image.
• Voice: Insert a voice recording.
5
Touch SAVE to finish composing the note.
Changing the Pen Settings
When writing or drawing on the screen, touch pen to change the pen type, line thickness, or pen color.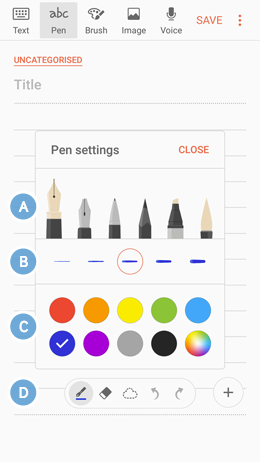 Settings for Pen tools:
 
• A: Change the pen type.
• B: Change the line thickness.
• C: Change the pen color.
• D: Pen tools.
1
From the Home screen, touch Apps.
3
To delete a note, touch and hold the note you want to delete.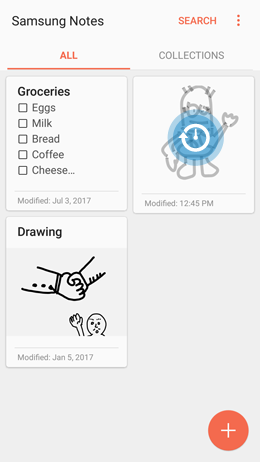 4
Touch DELETE.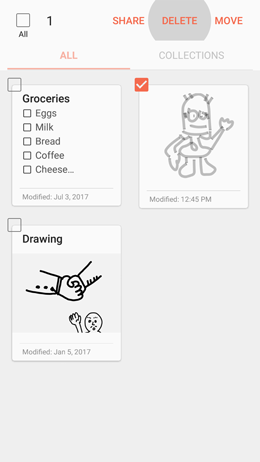 5
Touch DELETE to confirm your decision.