Galaxy Fold - Device care (SM-F900W)
Last Update date :
Oct 07. 2020
To keep up with the nuts and bolts of your phone's performance, use the device care feature. It provides an overview of your battery, storage, RAM, and security. You can also automatically optimize your phone for faster, better performance.
Information provided applies to devices sold in Canada. Available screens and settings may vary for smartphones sold in other countries.
Quick optimization
The Quick Optimization feature improves your phone's performance by identifying apps that use excessive battery power. It also clears away unneeded items from memory, deletes unnecessary files, and closes apps running in the background.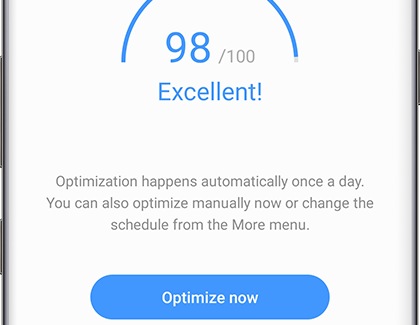 To optimize your phone, from Settings, swipe to and tap Device care. Tap Optimize now, and then tap Done.

Optimize battery and use power saving modes
Battery is your phone's lifeline. There are several ways you can change the battery settings to optimize your phone's battery life. From Settings, swipe to and tap Device care. Tap Battery. Here you will see a brief overview of your battery usage.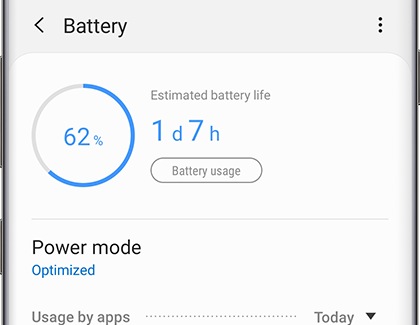 To save battery power, you can use the different power saving modes. Tap Power mode and then select from the following options:

High performance: Maximum screen brightness and resolution. Uses more battery.

Optimized: Get the recommended balance of performance and battery life.
Medium power saving: Extended battery life by limiting some functions.
Maximum power saving: Save as much battery as possible.
You can also access more battery options by tapping More Options and then tapping Settings. Tap Battery usage to get a detailed report about your usage record.
Clean storage
If you are worried about your phone being overloaded with unnecessary residual files, it's about time you clear out your storage. Happy cleaning!

From Settings, swipe to and tap Device care. Tap Storage, and then tap CLEAN NOW to free up storage space. This will delete unnecessary data, such as cached, residual, and advertisement files.

Clean memory
Is your phone getting glitchy and slow? It's time you clean up your phone's memory to improve its performance.

From Settings, swipe to and tap Device care. Tap Memory, and then tap CLEAN NOW to free up memory by stopping background apps.