Galaxy Mega - Insert a microSD card or remove it (SGH-I527M)
Last Update date :
Oct 06. 2020
Memory Card
Your device lets you use a microSD or microSDHC card to expand available memory space. This secure digital card lets you exchange images, music, and data with SD™ compatible devices.
Insert a microSD Card
1. Gently pull the cover off the device, using the slot on the side.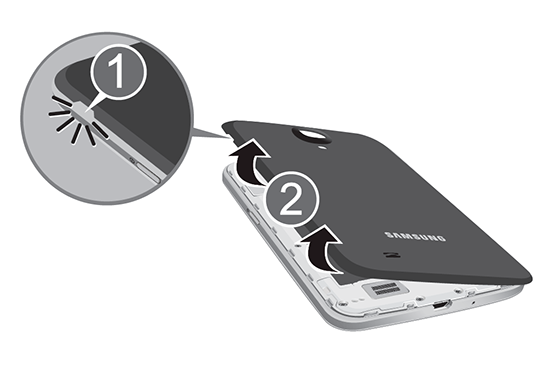 2. Remove your device's battery.
3. Push the microSD card into the slot until it locks into place (2).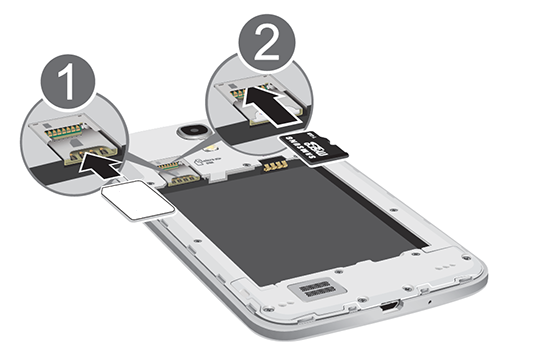 4. Insert the battery into the opening on the back of the device, making sure the contacts align (1). Gently press down to secure the battery (2).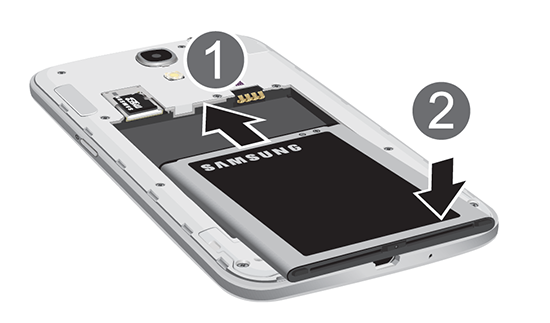 5. Replace the back cover.
6. Press along the edge of the back cover until you have a secure seal and it clicks into place.
Remove the microSD Card
1. You must unmount the microSD card before removing it. From the Home screen, touch
Menu

> Settings

> More

> Storage

>
Unmount SD card
. Touch
OK
to finish unmounting the card.
2. Remove the back cover, and remove the battery.
3. Grasp the microSD card, and remove it from the device.