Galaxy Note10 - What is in the box? (SM-N970W, SM-N975W & SM-N976W)
Last Update date :
Oct 07. 2020
At long last, the time has arrived. Your Note10 is here! Now it's time to open the box and see what's inside. It has everything you need to use and enjoy your new phone.
Information provided applies to devices sold in Canada. Available screens and settings may vary for smartphones sold in other countries.
See what's inside
Your Note10's box is full of goodies. Make sure you don't forget anything. Here's what comes with your new Note10: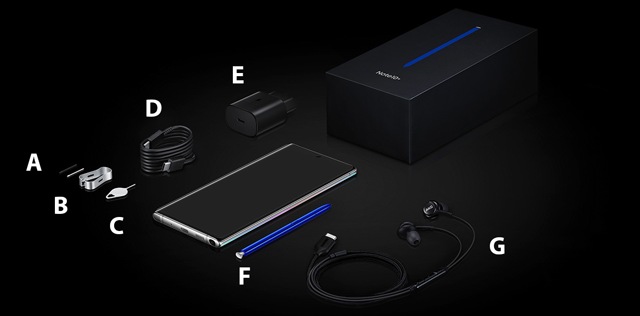 A. S Pen tips: Replacement S Pen tips.

B. Tweezers: To help you remove and reinsert the tips.

C. Ejector Tool: Used for ejecting the SIM and microSD tray. The Note10+ supports microSD cards but the Note10 does not.
D. USB Cable: Connect the USB-C to USB-C cable to the adapter to charge your phone.
E. Travel Adapter: The charger adapter that you plug into an outlet. Both the Note10 and the Note10+ come with a 25-watt adapter.
F. S Pen: Your new S Pen that writes on the phone's screen. Comes in black, white, light blue, and dark blue depending on your Note10.
G. USB-C AKG headset: A pair of headphones with a special USB-C port. The Note10 does not have 3.5mm headset jack.
Documentation is also included: Terms and Conditions (contains information on Terms & Conditions and Health & Safety for using your phone), Quick Reference Guide (a short version of the guide and a full user manual to help you get started), and User Manual.
If you chose only one Accessibility setting, it will activate immediately after pressing the Power and Volume up keys.